How a migrant can find a job in Spain
It's hard to deny that Spain is a great country to start a new life. Every year, thousands of foreigners come here to stay, if not permanently, then for an extended period. One of the first tasks they need to tackle is finding employment.
In this article, we will talk about specific steps for job searching, preparing documents, and getting employed in Spain, as well as provide statistical data on labor migration in the country.
Previously, we wrote about money transfers to Romania.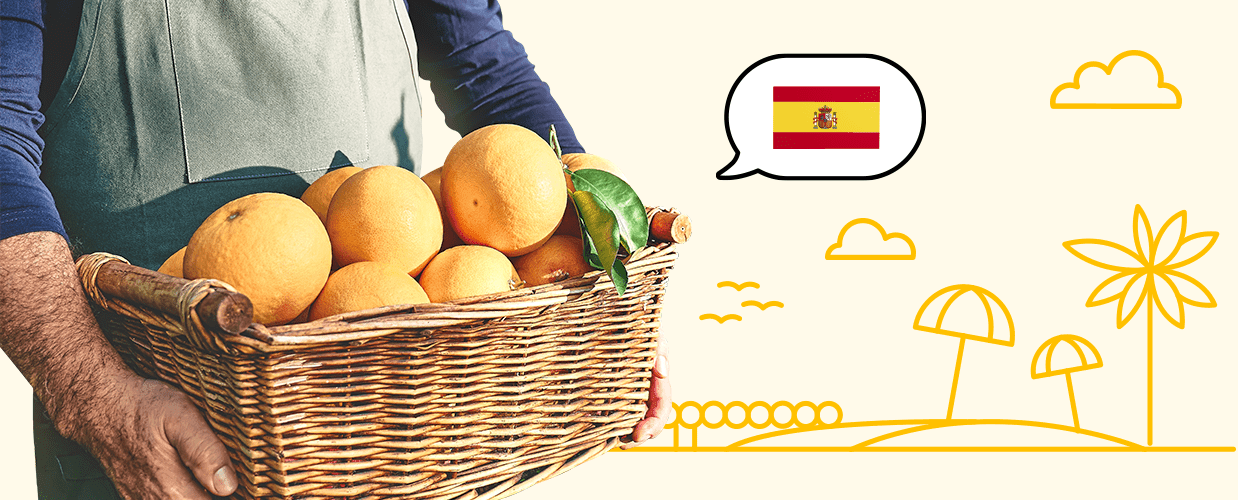 Labor Migrants in Spain
In 2021, there were around 5.4 million immigrants living in Spain. More than 40% of them constituted the active population: individuals aged 16 and above who had worked for at least one hour for pay.
The most notable groups of immigrants in Spain for several years have been individuals from South American countries like Peru, Venezuela, Colombia, and Ecuador (due to the absence of a language barrier), as well as North African countries such as Morocco and Mauritania (due to geographic proximity). Migration from less affluent European countries like Bulgaria and Romania is also quite significant.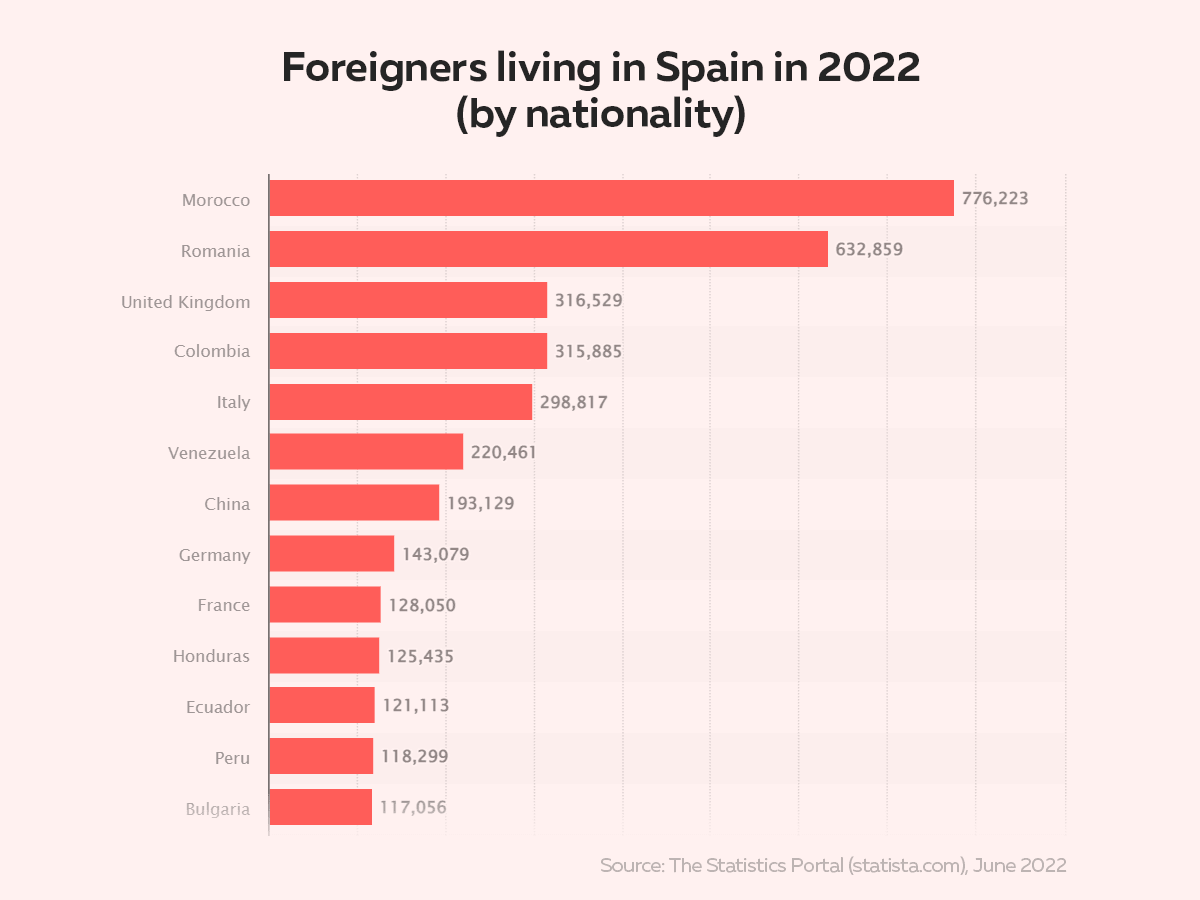 Parallel to regular immigration, there is also a flow of undocumented immigrants who try to enter the country via various water transport routes, taking advantage of the extensive coastline. In 2018, the official numbers of illegal migration reached record levels. This is important to know even for those planning legal entry, as it complicates the situation in the local labor market, creates high competition in low-paying sectors, and increases criminal activity.
Migrants from different regions are distributed unevenly across Spain's territory. Catalonia has a majority of immigrants from Africa, while Madrid has a higher number those from Latin America. Almost half of Romanian immigrants live between Madrid and Castellón. People from post-Soviet countries tend to gravitate towards Barcelona, Valencia, and Alicante. When analyzing job search queries for Russians and Belarusians looking for work in Spain, these cities, as well as Madrid, appear most frequently.
Job Search in Spain: Opportunities and Challenges
There are various visas and residence permits that allow foreigners to live in Spain. These can be student visas and student residence permits, visas for investors or entrepreneurs looking to open a business here. However, in this article, we will primarily focus on hired employees, for whom the only legal option to work in Spain is to obtain a work visa.
Here's the catch: The Spanish government insists on giving preference to citizens of the country in employment. Therefore, a foreigner looking to work here must first ensure that their desired profession is on the list of professions facing a shortage of skilled workers.
These professions usually require medium to high qualifications and may include doctors, IT specialists, media representatives, HoReCa staff, and more. Every quarter, the State Public Employment Service (SEPE) publishes a list of vacancies (Empléate), for which anyone can apply.
As of June 2022, the list of job vacancies with acute labor shortages looked as follows:
Senior mechanics for merchant ships,
Merchant ship pilots,
Ship mechanics,
Radio-electronic specialists for the merchant fleet,
Ship cooks,
Waiters on ships,
Ship stewards,
Boiler operators (skilled),
Ship firefighters,
Boatswains,
Sailors,
Professional athletes,
Sports coaches.
It is worth noting that these are data from the State Employment Service, but there is also a job market from companies and corporations that prioritize slightly different areas, particularly IT specialties.
So, while there are many employment options in Spain, a logical question arises: What happens if the desired job is not on this list? In that case, it must be ensured that all Spaniards who also applied for the same position were rejected by the company.
The conclusion here is that not all job vacancies entitle the candidate to obtain a work visa. However, if a company is interested in a specific employee, they will likely be able to obtain a work permit.
Where to Find Jobs in Spain
Use popular online services in Spanish or Russian languages.
| Websites for Job Search in Spanish | Websites for Job Search in English |
| --- | --- |
| InfoJobs, Laboris.net, Infoempleo, Monster, Trabajos.com, Trabajo.org, Milanuncios, Expansion, Indeed | Smartrecruiters.com, Goabroad.com, International job exchange for labor migrants (gastrobaiter.com/en/), Linkedin.com |
IT specialists are better off using specialized resources like Tecnoempleo and TicJob. Graduates can explore the EuroGraduate portal.
Among government and international employment-focused resources, the following can be highlighted:
Job Exchange (empleate.gob.es),
Employment Office (oficinaempleo.com),
State Employment Service (sepe.es),
Association of Temporary Employment Companies (agett.com),
Learn4Good (learn4good.com).
Traditional methods of job hunting should not be disregarded either:
Local newspapers (El Pais, El Mundo),
Sending resumes to major Spanish companies (Gas Natural FenosaBanco, Repsol YPF, Telefónica, BBVA, Iberdrola, Grupo ACS),
Job search through recruitment agencies (Alta Gestion, Flexi Plan, Adecco, Randstad, etc.).
For many candidates, social networks are the main source of job opportunities. Research shows that over 70% of vacancies are filled thanks to networking and personal connections between people. So, in addition to all the aforementioned methods, we recommend registering on Meetup, Guiribusiness, or joining any expat groups on Facebook, Linkedin, Telegram.
5 Steps to Find a Job in Spain
We have structured the entire job seeker's path to provide a clear guide on finding a job in Spain and preparing for legal employment. This guide is based on recommendations from Spanish recruitment agencies. Here are the 5 steps:
1. Work on Your Job Seeker Profile and Resume
To find a well-paid job in Spain, it is essential to carefully craft your presentation. This includes profiles on popular online job platforms (like LinkedIn) and social networks, tailored resumes for specific job vacancies, and preparing for interviews.
Keep in mind that regardless of the job you are applying for, there are many other candidates vying for the same position. Devote maximum effort to fine-tuning your presentation.
For example, in your profile, besides mentioning your education, Spanish career consultants recommend including the following:
Completed online courses, preferably from platforms with weight in Europe, such as Udemy or Coursera.
Membership in associations and clubs, not necessarily narrowly professional. This demonstrates you as an interested, active person.
Sporting or other achievements.
Your profile should portray you as a multifaceted, determined, knowledgeable, team-oriented person, etc.
On the other hand, your resume should be tailored for each specific job vacancy. You may have to write several dozen resumes for each job opportunity before receiving an invitation for an interview. In addition to your resume, each application to an employer should be accompanied by a cover letter that complements the dry data of your career growth and shows your interest in the vacant position.
However, it is essential to remember that it is impossible to be a suitable candidate for every job you come across. Many factors are beyond the applicant's control.
2. Learn Spanish
It is possible to find a job in Spain without knowing the language. However, not knowing Spanish limits the range of job opportunities. Moreover, even companies looking for English-speaking specialists usually require at least a minimal knowledge of the national language.
Therefore, follow the advice — start learning Spanish as early as possible, even if it's just the basics.
3. Apply for a Work Permit in Your Country of Origin/Residence
As soon as you find an employer willing to hire you, you can start the legal process of obtaining a residence permit in Spain. This is done in your country of origin/residence.
There are two preliminary options:
Come on a tourist visa and within the three months allowed to stay in the country, quickly attend as many interviews as possible. Then return home and begin the process of submitting the required documents.
Find a job online and have an online interview. Then, once your documents are in order, enter the country as an active employee.
The choice of which option to use is up to you.
4. Prepare Your Documents
Make sure you have prepared all the necessary documents, from diplomas to certificates of no criminal record, etc. Documents issued by foreign authorities must be translated into Spanish, notarized, and apostilled.
5. Obtain a Visa
For citizens of European Union member states, a visa is not required to work in Spain, but others will need to obtain a work visa.
To work in Spain, a residence permit and work authorization are required. These can be obtained through the General Consulate in your country of residence. The work authorization will be tied to a specific geographical area and profession. It will be valid for one year, but can be renewed upon expiration.
One of the main documents you will need is the NIE (Foreigner Identification Number), which can be requested in Spain or at the consulate in the applicant's country of residence. The physical presence of the applicant or their representative is mandatory.
The NIE is issued by the General Commissioner for Immigration and Borders, under the command of the Spanish National Police. The consulate cannot expedite the processing and issuance of documents. The average processing time for the NIE is about two weeks, but this period can be extended due to unforeseen circumstances. The NIE certificate is sent to the applicant by email.
After obtaining the residence permit and work visa, you will need to apply for the Foreigner Identity Card (TIE — Tarjeta de Identidad de Extranjero) at the Ministry of Foreign Affairs or the police station in the Spanish province where you are residing.
Another important document to be aware of is the Social Security membership number. To enter into an employment contract, it is necessary to register with the Social Security authorities. This can be done at the Social Security office (Seguridad Social). It is advisable to familiarize yourself with the conditions and requirements beforehand, for example, on the TGSS website.
Work visa in Spain with the right to official employment
First and foremost, it should be noted that the employer will initiate the application process with the Ministry of Labor and Immigration for the employment of a foreign worker. Once the corresponding authorization is obtained, it will be sent to the candidate to be included in the documentation package for the consulate.
The work visa is issued to individuals aged 16 and above who plan to work in Spain as an employee (under an employment contract), including seasonal work. The visa application can only be submitted in the country of origin or residence.
Required documents in 2022:
Application form for a national visa.
Photograph.
Valid passport with a minimum validity of 4 months + copy.
Initial residence and work permit for employment, signed by the employer + copy.
Employment contract + copy with the Foreigners' Registration Office stamp.
Certificate of no criminal record for the past 5 years + copy.
Medical certificate proving the absence of dangerous diseases + copy.
Proof of residence within the consular district.
Proof of identity and legal capacity of the representative. If the applicant is a minor, the original identity document or parent's passport and proof of relationship must be presented along with a copy.
Visa fee payment of 80 euros. Applicants must visit the consulate in person.
Work in Spain for freelancers and self-employed
Decree 557/2011 regulates the temporary residence permit for self-employed foreigners who wish to work independently without being employed by any company.
This permit allows immigrants to work as freelancers in Spain for one year and can be extended. After five consecutive extensions, they can apply for long-term or permanent residence.
IMPORTANT! To obtain this type of work permit, the procedure must be carried out from the country of origin or residence. This rule also applies to work visas.
Work permit for students in Spain
Those who are in Spain on a student visa can work up to 20 hours per week. The employer submits the work application on behalf of the employee.
If you have studied here for more than 3 years, you can easily transition from a student visa to a work permit. This requires an offer from an employer for a duration of at least 1 year and a minimum of 30 hours per week. It is also possible to switch to self-employed status.
Highly skilled specialist work in Spain
A visa for employment in Spain as a highly skilled specialist, manager, or graduate/doctoral student from recognized universities and business schools not only allows you to live and work here on legal grounds but also offers the following benefits:
Freedom to travel within the Schengen Area.
Ability to bring your family.
Years spent in this residency can count towards Spanish citizenship.
Ability to work in any region of the country.
This is very similar to the EU Blue Card, but the highly skilled specialist card allows you to work only in Spain.
Of particular value is the opportunity for highly skilled specialists to apply for documents while already in the country on a tourist visa, as mentioned by Spanish visa services.
Besides highly skilled specialists, there are a few other categories of foreigners who can apply for a work permit while in a tourist status:
Entrepreneurs wishing to conduct commercial activities and employees of international companies being transferred to a Spanish representation.
Descendants of Spanish citizens or parents of underage Spaniards.
Those who lost their long-term residency and, upon arriving in the country as tourists, request the restoration of their rights.
Work in Spain without a work visa
As mentioned several times, obtaining work permits and issuing work visas only happen in the country of residence, but there are a few exceptions.
Citizens of the EU do not require these permits.
Legalization is possible through a procedure called labor arraigo.
What is labor arraigo?
Arraigo Laboral is a type of residency granted under exceptional circumstances to foreigners who have continuously lived in Spain for 2 years (without residency status) and can prove that they have worked in the country for the last 6 months.
Usually, this procedure was applied to foreigners who were working illegally in Spain. To prove their actual work activity, the employee had to file a complaint against the employer in court or use some other method. For many migrants, this was a difficult moral dilemma. After an inspection by the labor authorities, the employer received a fine, and the employee could obtain a residence permit. To resolve the situation, they could insist on signing an employment contract and then legalize their stay in the country within the framework of this procedure.
In 2021, the Supreme Court made changes to the resolution regarding the requirements for this type of residency, making the process much simpler and broader. Now, the labor arraigo procedure can be used not only by illegal immigrants but also by the following categories of immigrants:
Foreigners with a regular work permit who cannot renew their card for any reason.
Highly skilled workers who were dismissed or terminated their contract.
Students with a work permit.
Family members of EU residents (with an EU card) who have lost their card.
Individuals applying for asylum or receiving a rejection of international protection, having worked for more than 6 months with a red card.
To obtain residency through labor arraigo, you must submit the following documents to the immigration office:
Application form EX-10.
Passport + copy.
Criminal record certificate (legally translated and apostilled).
Documents confirming employment for at least 6 months.
Documents confirming residence in Spain for 2 years.
Proof of payment of the fee.
The decision is issued within 3 months.
Working in Barcelona, Valencia, Alicante, and Madrid
As we have mentioned, ethnic immigrants are unevenly distributed across Spain's territory. In cities like Barcelona, Valencia, and Alicante, which are located in the eastern part of the country, the majority of foreigners are from the UK (in some towns in the Alicante province, Britons make up over a third of the population). There are also significant Russian communities and immigrants from other post-Soviet countries.
These cities have substantial Russian-speaking communities, and there are online resources in Russian language with job postings for Russians and useful tips for newly arrived immigrants. It's worth noting that finding highly skilled work can be quite challenging in these regions; such opportunities are more prevalent in Madrid. However, there are plenty of vacancies for physical labor, domestic work, or childcare.
KoronaPay money transfers for labor migrants
The life and work of nearly every immigrant in Spain are in some way connected to money transfers. Even if a foreigner comes to the country with their entire family, such as a highly skilled specialist, their relatives usually remain back in their home country.
Having the ability to financially support loved ones from a distance without overpaying for money transfer services is a valuable advantage for users of the Korona Pay mobile application.
The KoronaPay app allows you to send money from your smartphone 24/7. Transactions are processed within a few minutes, and the money is delivered to the recipient instantly.
The service has a European license and complies with EU legislation on personal data storage.
The app supports an interface in 13 languages.
Money can be sent from Spain to 20+ countries.
No fees are charged for transfers with currency conversion (e.g., sending in euros and receiving in tenge).
Senders can link their debit/credit cards in the app for easy transfer payments.
Money can be delivered to the recipient in dollars, euros, rubles, or the national currency of the destination country.
Various methods of receiving funds are available, such as to a card or in cash at pickup points (depending on the destination country).
KoronaPay app can be downloaded from the App Store and Google Play. It is free to use.
You can see several app screenshots below.
Money transfers from Spain
In conclusion of this overview of job search methods in Spain, it should be noted that the country offers ample employment opportunities for foreigners and even takes a relatively lenient stance on illegal labor migration. Nevertheless, the best approach to finding work in Spain is through official channels, which we have examined in sufficient detail.
In our blog, we regularly write about emigration to European countries, life in the EU, as well as about favorable money transfers. You can see all the topics of the articles we've written here.