Jobs for Women in EU
There still exists a significant gender gap in the labor market across all EU countries. On average, women work fewer hours than men, earn less, and have fewer opportunities to reach higher positions. Nevertheless, internet statistics show an increase in "jobs for women in Europe" web searches. Typically, these searches come from Eastern European countries such as Belarus, Moldova, and others.
In this article, we will discuss the types of jobs foreign women can apply for in European countries, the remuneration they can expect, and the challenges they may face.
Previously, we wrote about how to obtain tax deductions in EU countries.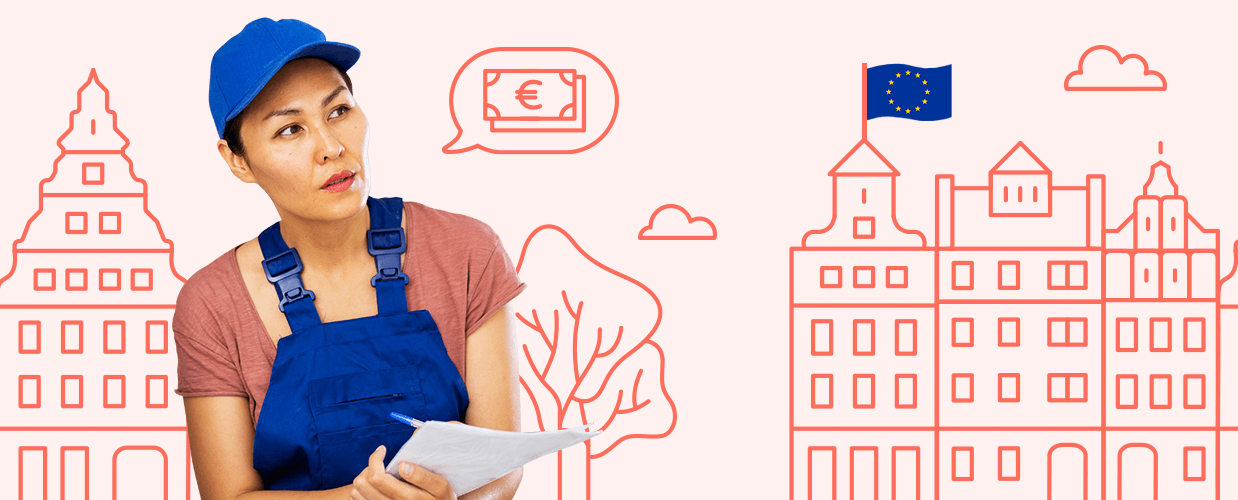 Jobs for Migrants in Europe
Vacancies that foreigners can apply for in EU countries fall into two categories:
Professions requiring high qualifications.
Low-skilled labor.
The first category includes IT specialists, researchers, and professionals from other high-skilled fields. Gender is not particularly relevant here, and both women and men can apply for these positions.
The second category comprises construction workers, drivers, warehouse employees, cleaners, nannies, caregivers, and similar jobs. Gender plays a role in this group of professions. For example, for construction jobs they usually hire men, while caregiving positions often go to women. However, the overall hiring of foreigners is relatively gender-balanced among migrants, and significant gender discrepancies are gradually leveling out over time.
Vacancies without language requirements can be found in both categories, though English proficiency is typically expected for positions in the first category.
Now let's return to women seeking employment in Europe and explore the employment opportunities available to them in 2023.
Jobs for Women in Germany, Au Pair
Germany has traditionally been an attractive country for emigration. People come here to study, work, reconnect with lost relatives, build new family relationships, and more.
As of 2022, there are significantly more male than female immigrants in Germany. However, the demand for skilled labor in the country is so high that suitable job opportunities can be found in many fields.
Data on immigration to EU countries (men, women)
The high demand for female labor is evident in the increasing number of job offers from German employers. Here's what Google search results show for "jobs for women in Germany" (January 2023).
Work for married couples with children
AU Pair job in Hamburg
Female worker needed at rehabilitation center for sick children
Caregiver. Women under 60
Warehouse worker
Even from these few ads, the following main job directions for women can be identified:
Global trade or logistics companies offering positions in warehousing, packaging, and sorting of goods.
Jobs as nannies, caregivers, or household assistants.
Employment in the social sector.
Knowledge of the language provides more opportunities. In Germany, one can find work with families through the au pair program, which allows language learning.
Au pair is an international language and cultural exchange program that usually involves students learning a foreign language. The essence of the program is that a local family hosts a foreigner who helps with household tasks while quickly learning the language within a language-immersive environment.
Within the framework of au pair, foreigners obtain legal grounds to stay in Germany.
For women who don't speak the official language, it is better to look for work as a nanny or a caregiver for a family that has roots in their country of origin or speaks their native language. Although in this case, you will have to solve all the problems associated with moving on your own.
Family vacancies are also quite popular. Large companies invite foreign families to work in warehouses, simple assembly and sorting plants. The employer provides housing, sometimes meals. As a rule, such enterprises have teams or coordinators who speak the native language of the employees, so that working even without knowing the language is quite comfortable.
Jobs for women in Germany can also be found in the service sector. Businesses in HoReCa and beauty industries run by immigrants from Eastern Europe are actively hiring compatriots. This includes jobs for waitresses, manicurists, maids, etc.
Nevertheless, Germans themselves recommend starting work in Germany with training or participation in social projects, and there are quite a lot of opportunities for this.
If you have not yet completed a higher or vocational education and do not speak German very well, you can take either the FSJ or the BFD.
Freiwilliges Soziales Jahr (FSJ) is a volunteer state youth program that is designed for people interested in learning German as part of socially significant projects. The "social year" lasts from 12 to 18 months. Foreigners from 18 to 27 years old can take part in the program. The project provides housing, food and pocket money (100-200 euros).
For older people, there is the Bundesfreiwilligendienst (BFD) program. This is a federal volunteer service in English. With the BFD, foreign applicants from different countries can participate in Germany in the fields of social welfare, environment, culture, sports, integration, civil defense and disaster management.
Often these projects are used by foreigners as an option to get to know the country and practice language before moving to Germany for a longer period.
Getting an education in Germany in German and English is also possible, and in many cases even preferable, as it allows you to legalize and naturalize faster in the country. We wrote a separate article about education in Germany in more detail.
Jobs in Poland for Women
Poland offers numerous job opportunities for women, but there are some specific characteristics. While in Germany, most migrants come with the intention of permanent residence, Poland is often considered a place for work. Hundreds of thousands of citizens from neighboring countries come here to earn money without intending to change their citizenship.
Following these trends, many employment agencies in Poland specialize in finding jobs for women from Belarus, Moldova, etc., tailoring positions to consider seasonal or rotational work options.
Poland is a major transportation and logistics hub, hosting warehouses of many international companies like Amazon, eBay, as well as production facilities for brands like Coca Cola, Pringles, Procter & Gamble, and others. Therefore, picker and packer positions are among the most popular jobs that women can apply for in Poland. Language skills are not required for such work.
It's also possible to find jobs as caregivers or nannies in the country, although Poland is not on the list of countries where the au pair program operates. Hence, such vacancies are better sought on local resources.
Recently, Polish legislators have simplified the entry and legalization process for immigrants.
Jobs for Women in Spain
Another country where female migrants can find work is Spain. However, the job opportunities here are fundamentally different. Agricultural enterprises are primarily in need of immigrants, so the main employment here is in greenhouse farming, crop picking, and similar tasks.
Before the start of the tourist season, vacancies for housekeepers, waitresses, and similar jobs may appear. Therefore, seasonal employment is more prevalent in Spain compared to the two countries described earlier. For those who would like to combine language learning with work, the Au Pair program is available in Spain.
However, you can also search for jobs as caregivers or nannies on resources localized for your native country, where Spanish language knowledge may not be required.
For many female emigrants, seasonal work in Spain is just a step towards moving to the country. We wrote a separate article about how to get a Spanish residence permit.
Jobs for Women in Finland
In Finland, the job market structure is similar to that of Germany and Poland, but there are more vacancies in the manufacturing sector.
The Au Pair program operates in the country, and there are also seasonal jobs in agriculture, mainly berry picking.
Starting from May 2022, changes have been made to the job search process in Finland. The new model applies to all job seekers without exception.
More detailed information can be found on the Tyomarkkinatori.fi job market website, which has replaced the previous employment service website, Tepalvelut.fi. Both resources are available to users.
Questions and Answers
To conclude the description of employment opportunities for women in EU countries, let's address some of the most pressing questions:
Can I work in the EU as a foreigner?
Certainly, if you have foreign higher education or a vocational school diploma recognized in the country, as well as language proficiency, you can start working immediately. Alternatives include studying in the country or participating in social projects, among others.
How many women work in the EU?
It depends on the country, but in general, it is common for women to work in European countries. In Germany, women make up almost half of the approximately 42 million employed individuals. In Spain, women constitute 46% of the total workforce.
In Poland, the level of female employment is below the EU average, especially in two age groups: 25-29 years (young mothers) and 60-64 years (women opting for early retirement).
Can I bring my children to the EU?
It depends on the type of job you are seeking and whether you can provide childcare while working. In many cases, this is possible without any issues, for instance, if you arrive in the European Union as a highly skilled professional.
However, it's worth noting that the Au Pair program explicitly states that applicants should not have children.
Money Transfers from Europe
For many migrants, working in Europe is an opportunity to financially support their families back home. The mobile application KoronaPay allows sending money transfers without commission.
By downloading the app for free from the AppStore or GooglePlay, users in Europe can send money to 20+ countries.
Sending methods (dependent on the country of authorization):
From a debit/credit card,
From a bank account.
Receiving methods (dependent on the destination country):
To a card,
In cash at designated points.
Sending: Euro, national currencies of European countries (krona, zloty, pound sterling, etc.).
Receiving: National currencies (tenge, leu, som, etc.), Russian ruble, US dollar, euro.
The transfers are delivered instantly. The application provides chat support and the option to contact call center specialists by phone or email.
Download the KoronaPay app using this link. You can try calculating the transfer amount without entering personal data. Your details will be required only if you click "Select a recipient" after the calculation.
In our blog, we write extensively about job searching and options for legalization in European countries. You can view all topics here.