Salaries in Germany: How Much Germans and Migrants Earn
Germany is a country with the strongest economy in Europe and a center of attraction for many foreigners seeking employment. People from other EU countries (such as Romania, Poland), non-EU European countries (like Moldova), and hundreds of thousands of migrants from Southeast and Central Asia, the Middle East, and even Latin America come here in search of a better life.
What attracts them? Of course, the high level of salaries: Germany ranks third among continental European countries in terms of average wages, following Denmark and Switzerland (January 2022). However, unlike the mentioned countries, there are enough job opportunities for foreigners in German territories.
From the article, you will learn about the average salary in Germany per year and per month for various professions, the size of the German minimum wage, and the net income residents have after paying taxes.
Earlier, we wrote about Money Transfers to Romania.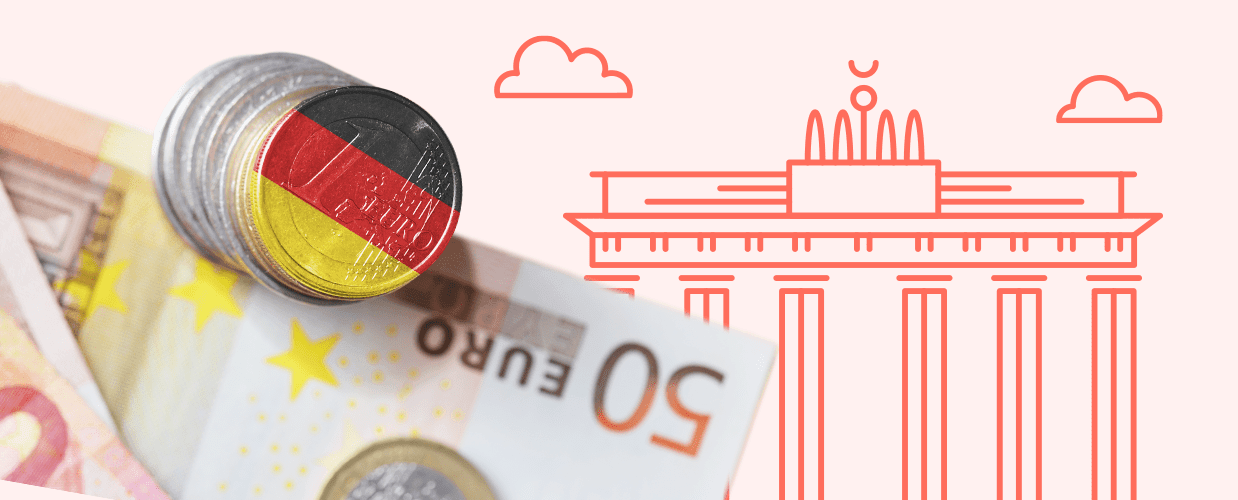 Average Salary in Germany in 2023
According to the job vacancy website Stepstone.de, the average earnings in Germany in February 2023 amounted to €53,118 gross per year.
Gross salary refers to the amount of income before taxes, insurance, and other mandatory deductions. After all deductions, the net salary remains, which is the take-home pay.
The study also revealed that the following individuals can expect high salaries:
Representatives of certain professions: medical doctors (€93,800), engineers (€52,600), IT specialists (€52,000).
Residents of major cities, especially in western states: Munich, Hamburg.
Employees of large companies with a workforce of over 5,000 people.
The lowest wages are observed in the hotel business (€35,700), agriculture and forestry, fishing (€36,100), and employees of small firms (less than 50 people).
Experience significantly influences the level of income. For instance, a specialist with 6 to 10 years of experience earns about 40% more than young specialists with 0 to 3 years of experience.
There is also a difference in salaries between eastern and western Germans. Excluding Berlin, it can be seen that the average salary in Germany for eastern states is €38,670 per year, while in western states it amounts to €45,461. The gap is nearly 15%.
Interestingly, in Germany, employees responsible for personnel management receive special bonuses. For example, in tax consulting, the personnel responsibility bonus is 78%, and in the insurance sector, it is 48%. Managerial positions in mechanical engineering (€96,636), the commercial sector (€94,263), and sales (€84,143) are also well remunerated.
Gender Pay Gap
In 2022, the gender pay gap in Germany was about 18% (according to the Federal Statistical Office's research).
In western states and Berlin, the gap is 20%, while in the east, it is 6%. This is partly due to the fact that women work part-time more often than men. However, this factor alone does not justify the full extent of the gender pay gap.
Difference in Remuneration Based on Gender
| Gender | Average Monthly Salary (in euros) |
| --- | --- |
| Men | 4,146 |
| Women | 3,578 |
Overcoming gender and other forms of pay inequality is complicated by the fact that discussing income is a taboo topic in Germany. It is not customary to discuss one's salary with colleagues or even family members. The closed nature of this topic often hinders experts from accurately assessing the labor market situation and identifying critical indicators.
However, specialists at Stepstone.de note that job listings that indicate even an approximate salary tend to generate more interest among applicants.
Wage dynamics (net) in Germany over the years
| Year | Amount, euros per month |
| --- | --- |
| 1991 | 1,832 |
| 2000 | 2,551 |
| 2015 | 3,612 |
| 2016 | 3,703 |
| 2017 | 3,771 |
| 2018 | 3,880 |
| 2019 | 3,994 |
| 2020 | 3,975 |
When describing the German salary market to the best of their ability, specialists often refer to arithmetic mean indicators, which are not always sufficiently objective. Typically, when calculating average salaries, the figures tend to be skewed towards higher numbers.
To provide a more comprehensive assessment, experts also consider median values.
The median is the number that sits in the middle of a set of numbers. When calculating the median wage, all values are arranged in order, and the value in the middle is selected. For example: 500, 1,100, 2,200, 2,500, 3,000, 3,500, 4,200. The median would be 2,500. Thus, the median salary amounts to €43,842 per year, which is nearly €10,000 lower than the average.
Minimum wage in Germany in 2023
The minimum wage was introduced in the Federal Republic of Germany on January 1, 2015. It is mandatory for almost all employees, with only a few exceptions:
Minors who have not completed vocational training;
Interns, if the internship is mandatory as part of school/university education or voluntary for a period of up to 3 months;
Long-term unemployed individuals during the first 6 months of employment;
Young individuals attending preparatory courses for vocational training;
Self-employed individuals;
Volunteers.
The German minimum wage also applies to foreigners. Violations of the law by employers can result in fines of up to €500,000 and can affect the company's partners.
In terms of this indicator, Germany ranks 6th among European countries in a study conducted by the Institute of Economic and Social Sciences. Only Luxembourg, the Netherlands, France, Italy, and Belgium have higher minimum wages (as of January 1, 2022).
As of October 1, 2022, the minimum wage in Germany is €12 per hour (gross). There are no planned increases in 2023.
Some sectors have their own collectively agreed minimum wages. However, they are never lower than the legally established minimum.
Minimum wages in some sectors
| Sector | Minimum wage, euros per hour |
| --- | --- |
| Professional education | 17.87 |
| Roofing | 13.30 (unskilled worker), 14.80 (skilled worker) |
| Electrical goods trade | 13.40 |
| Building cleaning | 13.00 (room cleaning), 16.20 (window and facade cleaning) |
| Construction | 12.85 |
| Masonry | 13.35 |
| Caregiving | 13.90 (unskilled workers), 14.90 (trained workers), 17.65 (medical personnel) |
Those employed part-time also have the right to receive minimum wages for their work. The maximum income for such individuals, also known as mini-jobbers, is €520 per month, and they are allowed to work no more than 10 hours per week. Beyond the limit, mini-jobbers can only earn additional income through unplanned overtime. Otherwise, the number of hours must be reduced.
Average salary in Germany after tax deductions (net)
Taxes and deductions collected from German citizens include:
| Tax | Amount, Explanation |
| --- | --- |
| Income tax | Calculated based on the income tax law. Deducted monthly from the salary and transferred to the tax office. Applies to self-employed individuals, and the rate depends on the category to which the taxpayer belongs. |
| Unemployment insurance | Mandatory by law, not collected from the unemployed. It amounts to 1.2% of the gross salary. |
| Long-term care insurance | Regardless of whether a person has private or state health insurance, these deductions are necessary in case the person requires constant care and external assistance (for more than 6 months). It amounts to 1.8% per month, while citizens with children pay 1.5%. |
| Health insurance | The overall rate is 7.3%. It is calculated individually if a person is insured with a private company. |
| Pension insurance | Usually 9.3% of the monthly gross salary. |
| Church tax | Paid by members of recognized state churches. The rate varies depending on the federal state, ranging from 8% to 9%. |
| Solidarity surcharge | An addition to the income tax. Since 2021, it applies only to employees with tax payments exceeding 16,956 euros per year. |
The Federal Statistical Office reports that deductions from the average earnings in Germany for each employee in 2022 amounted to 33.9%. In other words, if the annual gross salary is 38,728 euros, the net income received by the employee will be 25,583 euros. The amount may vary slightly across federal states, but the overall picture is clear.
To better understand how much you will receive in a particular position, some websites offer online calculators.
Salaries in Germany in 2023 by professions and industries
As mentioned earlier, some of the highest-paid professionals in Germany are doctors, managers, engineers, and IT specialists. For example, the salary of a doctor in Germany is nearly twice the average.
To continue with the medical field, it should be noted that doctors' salaries depend not only on their specialization but also on the status of the clinic. For instance, the starting gross salary of a doctor is:
4,938 euros in a university clinic (Charité in Berlin, University Hospital Frankfurt),
4,852 euros in municipal hospitals (city clinics in Cologne, Dortmund Clinic),
5,109 euros in private hospitals (Helios, Asklepios).
For specific medical specialties, the following salaries apply:
surgeon — 88,400 euros,
dentist — 65,400 euros,
general practitioner — 56,856 euros.
The average salary of a nurse is 34,565 euros.
Let's look at specialists in other industries. Here is the average salary (in euros):
Machine operator — 40,100
Engineer — 52,600
Teacher — 51,100
Programmer — 44,100
Driver — 44,150
Worker — 40,900
Welder — 31,500
In Germany (according to Stepstone data for 2023).
Comparison of Monthly Salaries by Industries
| Industry | Salary, euros per month | Industry | Salary, euros per month |
| --- | --- | --- | --- |
| Electrical Engineering | 5,294 | Engineering | 4,940 |
| Construction | 4,478 | Hospitality | 2,362 |
| Banking | 5,128 | IT and Development | 5,070 |
| Databases | 4,412 | Software Development | 5,015 |
| Mobile Development | 4,665 | SAP/ERP | 5,355 |
| System Administration | 3,527 | Web Development | 3,931 |
| Procurement | 3,874 | Logistics | 3,727 |
| Journalism | 4,122 | Communications | 4,385 |
| Marketing | 3,729 | Translation | 3,315 |
| Design | 3,343 | Graphic Design | 3,041 |
| Publishing | 3,916 | Education | 5,190 |
| Politics | 5,190 | Social Work | 3,981 |
| Psychology | 5,084 | Consulting | 6,124 |
| Customer Service | 3,662 | Production Technology | 3,402 |
| HR | 3,986 | Tourism | 2,688 |
| Accounting | 3,383 | Insurance | 4,199 |
| Architecture | 3,848 | Finance | 5,095 |
*Based on Stepstone data.
Top 5 Industries with the Highest Pay (2022)
| Position | Average Salary, euros per year (gross) |
| --- | --- |
| Insurance | 59,629 |
| Banking Sector | 59,053 |
| Consulting | 57,621 |
| IT | 57,475 |
| Energy Sector | 56,416 |
*Based on kununu data, year 21/22.
Immigrants' Wages
According to the Federal Employment Agency, the average gross income of 3 million foreign employees in 2019 was around 2,600 euros, while Germans earned about 25% more, around 3,500 euros (gross).
Of course, as immigrants adapt to the country, their income also increases. We found a study from 2015 that shows:
In the first 2 years, foreigners earn between 55% and 61% of the salary of their German colleagues.
In the following 6-10 years, their income increases to 71-78%.
After 10 years of living in Germany, immigrants earn, on average, 90% of the salary.
The results indicate that integration into the German labor market is a lengthy process that largely depends on language proficiency, experience in the field, and professional skills. However, according to the Federal Anti-Discrimination Agency, the phenomenon of the wage gap for migrants is a reality.
To improve the situation, it is recommended for expatriates to undergo additional training and language courses. This will help them adapt their skills more quickly to the requirements of the German labor market.
Do immigrants receive the minimum wage?
Firstly, migrants are not exempted from the list of exceptions. Secondly, all citizens legally residing in Germany and having a work permit can claim the minimum wage. Thus, immigrants do receive the minimum wage.
There are cases where foreign workers are deceived by unscrupulous employers. If there is discrimination in the workplace, one can contact a labor union or the Anti-Discrimination Agency with evidence of different pay for the same qualifications and positions.
Purchasing Power
The Federal Statistical Office reported that despite the increase in the minimum wage, it was not possible to compensate for inflation in 2022. The real wages in Germany fell more rapidly than ever since calculations began in 2008.
In 2022, consumer prices increased by 7.9%, the highest ever growth in the calculation period. Adjusted for inflation, net wages decreased on average by 4.1%. Researchers expect the situation to change by 2024.
Money Transfers from Germany
Returning to the topic of migrant wages, it is worth noting that besides living expenses, many of them also send money back home to support their families. So, considering that they earn significantly less than German citizens in the first few years, their financial situation becomes quite challenging.
In these circumstances, every opportunity for saving money is important. For example, sending money transfers without fees through the KoronaPay app.
Among other advantages of the service:
20+ destinations from Europe
minimal exchange rate mark-up
transfers to card and to cash
simple and user-friendly sending process
instant delivery
The KoronaPay app has over 18 million downloads. The service holds a European license and complies with all financial regulatory requirements.
You can check if the KoronaPay app supports transfers to your country and learn about the sending conditions without entering personal data.
Authorize with your phone number.
Select the destination.
Calculate the amount.
If you agree, you can proceed with the transfer.
In our blog, we write about life, education, and work in Europe. We hope these reviews help migrants settle into their new country faster. You can browse our article catalog via the link.