Apartments in Poland: how much does it cost to buy or rent
"Interesting times" — that's how some Polish experts evaluate the real estate market for 2023-2024. In this article, we will explain why they think so, what important changes are happening in the country's legislation right now, and how it will affect the ability of buying or renting property in Poland for both Poles and foreigners.
Previously, we wrote about health insurance in Europe.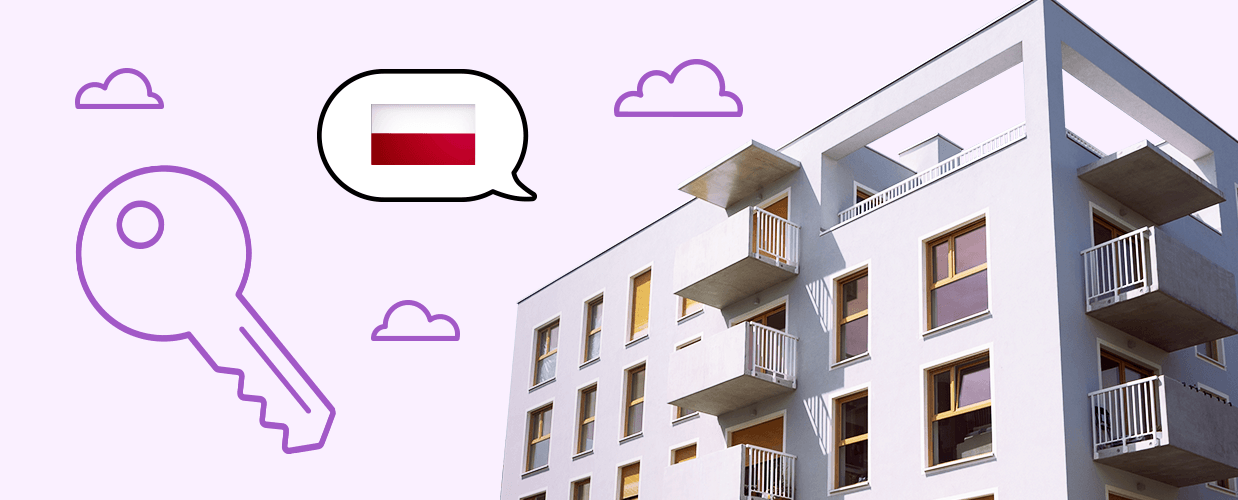 Real Estate Market in Poland
Since the beginning of 2023, many observers have noticed a revival in the residential property market. After a prolonged decline in housing demand from the 2nd quarter of 2022, there has been a noticeable trend of rising prices for apartments in the primary market and a significant increase in housing loans in the current year's 1st quarter.
For their part, the Polish authorities have introduced a program to subsidize credit installments for first-time buyers called "Safe Loan 2%" (Bezpieczny kredyt 2%), which, according to economists at PKO Bank Polski, will lead to a 10% price increase in real estate transactions by the end of the first quarter of 2024.
"In the year's perspective (2nd quarter of 2023 to 1st quarter of 2024), we expect an increase in average apartment transaction prices (5-10%). The market will be increasingly influenced by limited supply with simultaneous growth in demand," says the market review for the 2nd quarter of 2023 on the Bank Polski website.
Experts note that these trends are most noticeable in the six major cities of the country, especially for apartments in the primary market. Buying an apartment in a new building in Poland is primarily an investment that is gradually returning to the housing sector.
However, in the 2nd and 3rd quarters of 2023, specialists predict an increase in demand for the secondary market.
"For a long time, we had high interest rates, which practically meant that few people could afford a mortgage. As a result, the demand for real estate declined. Now market participants expect interest rates to fall and creditworthiness to improve," said one independent expert at the beginning of the year.
In the rental market, the annual growth in the 1st quarter of 2023 slowed down to single digits, with rates remaining unchanged or slightly lower compared to the previous quarter. Demand related to the housing needs of a large number of migrants stabilized.
According to specialists, the pressure on the rental market will weaken due to the return of participants eligible for the "Safe Loan 2%" program, as well as individuals gaining creditworthiness due to the increase in nominal income and the easing of creditworthiness requirements from February 2023 at a fixed rate.
Thus, buying or renting an apartment in Poland in 2023-2024 will become easier, especially in the secondary market in smaller cities. Foreigners will also be able to solve their housing problems with the help of the "Safe Loan."
The law does not exclude foreigners from participating in the program if they keep a household in Poland. However, if the household is kept outside the country, a foreigner can apply for a 2% safe loan together with a person with Polish citizenship (gov.pl).
Safe Loan 2% (Bezpieczny kredyt 2%)
Since many experts agree that the government's credit program has the potential to significantly change the housing market situation in Poland, let's take a closer look at it.
Starting from July 1, 2023, individuals up to the age of 45 who do not own or have not owned an apartment or house can apply for the preferential loan. In the case of a married couple, at least one of them must meet the age requirement.
The maximum loan amount is 500,000 zlotys. For married couples or parents with a child, it is 600,000 zlotys. The credit can be used for both primary and secondary market real estate.
The subsidy for housing loan installments is the difference between the fixed interest rate, determined based on the average interest rate for fixed loans in creditor banks, and the interest rate for the loan at 2%. The subsidy will be paid over a period of 10 years.
As we have already mentioned, there are no special restrictions for migrants to participate in the program. Detailed examples of housing purchase subsidy calculations in Poland are provided on the government's website.
It is worth noting that on the first day of the program's implementation — July 1, 2023, over 10,000 applications were submitted, indicating the demand for government measures. However, it turned out that loans with subsidies are currently only available in a few institutions.
How much does it cost to buy an apartment, housing in Poland
As we mentioned earlier, the real estate market in Poland has experienced several significant ups and downs in recent years, which naturally affected property prices. For example, in November 2021, the price per square meter in cities increased by an average of 4%, while in May 2022, there was a decrease of about 3.5%.
Changes in property prices in Poland in the 5 largest cities
| City | Price per sq. m. | November 2021 | May 2022 |
| --- | --- | --- | --- |
| Warsaw | 12,895 zł | 4% | -2.4% |
| Krakow | 11,094 zł | 1% | -3.1% |
| Lodz | 7,316 zł | 3% | -2.3% |
| Wroclaw | 10,208 zł | 6% | -2.1% |
| Poznan | 8,967 zł | 4% | -5.1% |
In 2023, the cost of apartments in Poland started to rise again. According to the website wnioskomat.com, in March 2023, the price per square meter from developers in large, medium, and small cities was as follows (zł per 1 m²):
Warsaw — 13,358
Krakow — 11,299
Bydgoszcz — 9,195
Opole — 8,843
Lembork — 7,369
Wnioskomat.com specialists specify that they considered prices that are not too high or too low. In reality, the cost of housing closer to the city center, for example, in Warsaw, fluctuates between 20,000 and 25,000 zlotys per m², while in Krakow, it is around 19,000 zlotys per m².
Prices for housing in Poland on the secondary market according to the same resource in March 2023 were as follows (zł per 1 m²):
Warsaw — 10,833
Krakow — 9,424
Bydgoszcz — 8,956
Opole — 5,279
Lembork — 4,489
How much does it cost to rent an apartment, housing in Poland
The Polish rental market has shown somewhat different dynamics during this time. Against the backdrop of rising interest rates in 2021-2022, those who could not afford to buy an apartment became interested in how to rent housing in Poland. As a result, rental prices increased significantly.
In January 2022, the average cost of renting an apartment in the ten largest cities was 2,244 zlotys. In January 2023, it increased to 2,869 zlotys. This means that the price rose by more than 600 zlotys (28%). However, by summer, the prices decreased.
Cost of renting housing in Polish cities (June 2023)
| City | Approximate rent for a 2-bedroom apartment (40-50 m2) in zlotys |
| --- | --- |
| Warsaw | 4,600 |
| Krakow | 3,200 |
| Lodz | 2,400 |
| Wroclaw | 3,300 |
| Poznan | 2,500 |
| Bydgoszcz | 2,000 |
In the second half of 2023, with more favorable conditions for buying property and a decrease in migrant demand, rental prices are expected to decrease.
How to buy an apartment, housing in Poland
A foreigner wishing to buy real estate in Poland must obtain permission from the Ministry of Internal Affairs and District Administration. Permission to purchase an apartment or house is possible if two conditions are met:
The acquisition of housing must not pose a threat to security and public order.
The person applying for permission has demonstrated ties to the country (valid residence permit based on work, marriage to a Polish citizen, etc.).
As a rule, permission to buy property in Poland is required if it concerns areas in the border zone (30 km from the land and sea borders). Thus, if you are buying an apartment in cities like Gdansk, Gdynia, you will need to apply to the Ministry of Internal Affairs.
However, there are some exceptions when obtaining permission is not required, here are some of them:
Inheritance.
Purchase of a separate residential unit under the Law on Ownership of Premises of June 24, 1994.
Purchase of a separate non-residential unit (garage).
Purchase of property by a foreigner who has been residing in the country for at least five years since obtaining permanent residency.
Foreigners from EU and EEA countries have minimal restrictions on acquiring any property in Poland.
On the rest of the territory of Poland, foreigners can purchase residential real estate with practically no restrictions. The exception is apartments with a share in the road. What does that mean?
In some residential complexes, the roads located on its territory are divided into shares and are registered as the property of the residents. In the case of buying an apartment in such a complex, foreigners do not need permission to purchase the housing, but they will need permission to acquire a share in the road.
In general, there should be no major difficulties in buying an apartment in Poland. To complete the transaction, you will need your passport, confirmation of legal residency status in the country, and money.
How to rent an apartment, housing in Poland
To find current rental listings, it is best to search popular websites such as otodom.pl and olx.pl, as well as Facebook groups specific to each city, for example: Wynajem Wrocław, Wynajem mieszkania Wrocław. Social media channels and messenger groups related to various communities (e.g., Kazakhs in Poland) can also be helpful. Of course, it is advisable not to overlook the assistance of real estate agents.
When renting an apartment in Poland, it is important to follow these rules:
Rent the property directly from the owner.
Prepare a rental contract and a transfer act (protokół zdawczo-odbiorczy).
Clarify in advance the amount of rent and fees for services (internet, utilities, etc.), as well as any required deposits.
Never pay any money before signing the contract.
Tenant glossary
Kaucja - deposit, which the landlord sets as a security deposit for the property. It is usually equal to one month's rent.
Czynsz - rent, the fixed amount paid monthly. Media - utilities: electricity, heating, water, and gas, often includes phone and internet.
Zaliczka na media - prepayment for utilities: a minimum amount paid for utilities. If this limit is exceeded, tenants will have to pay the additional amount.
Zameldowanie - registration at the place of residence.
Protokół zdawczo-odbiorczy – transfer act.
Najm okazjonalny - occasional rent. It is a specific type of lease agreement with the same legal force as a standard contract, but it allows landlords to more quickly involve enforcement officers to evict unreliable tenants.
Rental Prices for Apartments, Housing
In the six largest cities in Poland, the average rental price per square meter in the summer of 2023 is around 60 zlotys. Of course, the location and condition of the apartment also play a significant role.
We have researched offers for 1-bedroom apartments with an area of up to 40 square meters in Warsaw on the otodom.pl website and compiled them into a table.
Price of 1-bedroom apartments in Warsaw (July 2023)
| Number of bedrooms in the apartment | Area (m2) | Price (zł) | Utilities (komunalne) | District of Warsaw |
| --- | --- | --- | --- | --- |
| 1 room | 30 | 2,500 | 689 | Mokotów |
| 1 room | 37 | 2,900 | not specified | Ursynów |
| 1 room | 37.5 | 2,300 | 300 | Bielany |
| 1 room | 34 | 2,950 | 280 | Bielany |
| 1 room | 28 | 2,800 | 620 | Wola |
| 1 room | 28 | 2,500 | not specified | Targówek |
| 1 room | 28 | 1,900 | 600 | Mokotów |
| 1 room | 26 | 1,600 | not specified | Wolomin |
| 1 room | 31 | 3,000 | 650 | Srędmiescie |
| 1 room | 27 | 2,200 | 400 | Żoliborz |
Money Transfers from Poland
In addition to housing concerns, many migrants have to think about the most cost-effective way to send money to their families back home.
This problem can be solved by using the KoronaPay mobile app. It allows you to send money without a fee and with minimal exchange rate markup.
KoronaPay provides money transfers to 20+ countries. The process of making a transfer takes no more than 5-10 minutes (subsequent transfers are even faster), and the delivery is instant.
You can download the KoronaPay app from the App Store and Google Play. The transfer conditions are available to review before entering the sender's details and card information.
In our blog, we write extensively about education, work, and life in EU countries. You can find all the articles here.