Buying Property in Spain
CBRE, the world's largest real estate consulting company, forecasts a one-third decline in the Spanish property market in 2023. The main reason is inflation and the subsequent decrease in purchasing power. However, residential construction remains a focal point for private investors.
This article in our blog is dedicated to the Spanish real estate market, primarily in the context of immigration. We will try to understand how easy or difficult it is for a foreigner to buy an apartment or a house in Spain.
Previously, we wrote about how to find a job in Spain.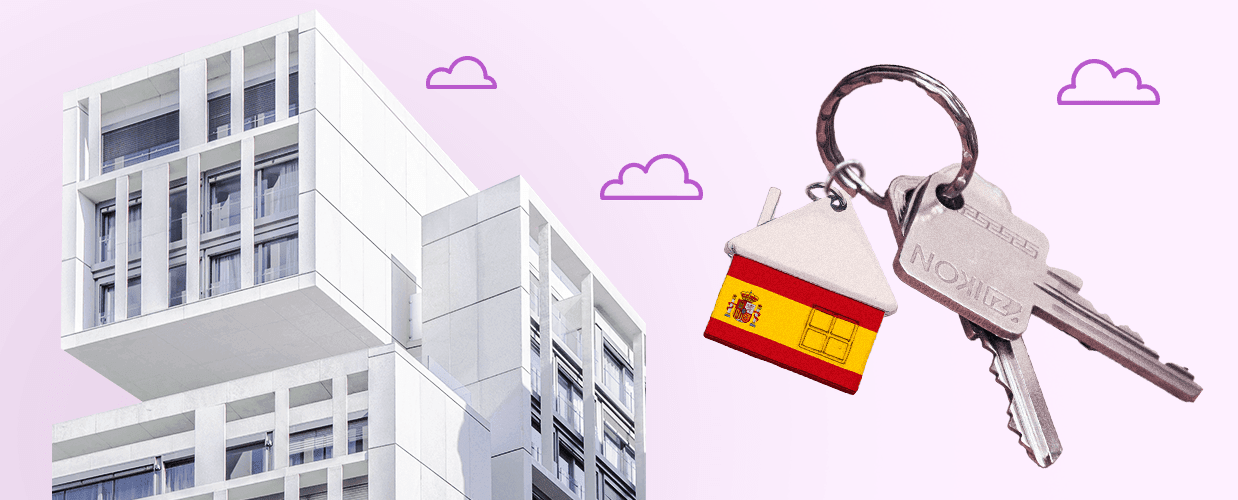 Overview of the Spanish Real Estate Market in 2023–2025
The main trend in the Spanish real estate sector in 2023 is reduced activity. A 33% decrease is expected compared to 2022, which experts from CBRE have defined as the best in the last 15 years.
"The most significant influence on our market is the rise in interest rates," said Javier Kindelan, Vice President of CBRE Spain. As a result of inflation (up to 3.75%) and the loss of purchasing power, buying a house this year will be more challenging.
Stable prices (they will only increase by 0.1%) complete the picture, although better figures were expected for the housing segment. According to experts, new properties will become approximately 3% more expensive.
Nevertheless, investments in the housing sector reached 1.219 billion euros by March 2023. This constitutes 42% of all investments in real estate in Spain since investors have not reduced their pace here, unlike in other sectors such as offices or commercial real estate.
The majority of investments, according to CBRE, were in build-to-rent constructions. These are new projects that investors purchase entirely to rent out apartments. Government investments in building social housing and student dormitories are particularly noticeable in this area
.
Real estate appraiser Evroval has presented a more extended forecast for the development of the real estate market in Spain for the period of 2024-2025: the average housing price will increase by 6% from 2023 to 2025, reaching 1,809 euros/m2.
However, prices in Spanish provinces will grow differently. For example, an increase of 8.46% is forecasted in Malaga, 5.28% in Madrid, and 2.96% in Barcelona. The most significant difference in the growth of housing prices between Spain's autonomous communities is evident in Guadalajara and Palencia. Here, the delta is more than 20 percentage points (16.64% versus 3.65%).
Evroval's study emphasizes that "the closer this forecast, the more likely it is to be accurate." Forecasts for the end of 2023 create much more debate among experts than the state of the market in the next few years.
Property in Spain: Prices in Different Regions
According to the real estate portal Fotocasa.es, the average price for buying and selling property in Spain in August 2023 was 2,145 euros/m². An 80 m² apartment costs on average 171,600 euros.
"Historically, August usually shows moderation due to the summer season when demand slows down, but currently, housing prices continue to rise significantly," commented Fotocasa representative Maria Matos on the research results.
Portal specialists also reminded that the real estate market still feels the shortage of housing, exacerbated by the halt and delay in the construction of new properties.
According to an analysis of average property purchase and sale prices conducted by Fotocasa, the most expensive autonomous communities in August 2023 were:
Balearic Islands: 3,778 euros/m²,
Madrid: 3,508 euros/m²,
Basque Country: 3,013 euros/m².
Here are three comunidades where house prices are currently the lowest:
Murcia region: 1,281 euros/m²,
Extremadura: 1,199 euros/m²,
Castilla-La Mancha: 1,172 euros/m².
How to Buy an Apartment or a House in Spain
Foreigners can buy property in Spain without any restrictions. However, to make a purchase, it is necessary to obtain a "foreigner identification number" (NIE) issued by the Spanish authorities.
There are several types of NIE depending on the migrant's country of origin:
EU resident,
EU non-resident;
and whether they plan to live in Spain for an extended period or not:
temporary NIE,
permanent NIE.
Let's consider the scenario where an EU non-resident who plans to move to Spain for more than 6 months needs to buy an apartment or house.
In this case, the immigrant will need a Número de Identificación de Extranjero in the form of TIE (Tarjeta de Identidad de Extranjeros — Foreigner Identity Card).
Documents for obtaining TIE:
Form EX-17,
Color photograph,
Copy of the passport,
Receipt of payment of the fee.
The identification number can be obtained at the Spanish consulate or embassy in the country of residence or at any police station while already in Spain.
Step-by-Step Guide to Buying Property in Spain
1. Property check: Check property documents, the condition of the property, absence of encumbrances, etc.
2. Reservation and prepayment: The seller and the buyer sign a Deposit Agreement (Contrato de Arras en España), and an initial payment is made.
3. Mortgage arrangement (if applicable): It's advisable to gather all necessary documents for the bank in advance and obtain credit approval. If buying property in Spain is planned without a loan, payment can be made in one go without any prepayment.
4. Preparation for property transfer: Re-registration of communal and other payments and obligations. In case of a mortgage, there's an appraisal stage. The bank receives a preliminary agreement, sends an appraiser, and then approves/disapproves the mortgage.
5. Transfer of property rights: Notarization of the property transfer. Both parties provide the requested documents (passport, property right certificate, payment, etc.); the contract is signed and approved by the notary.
After registration in the Property Register, the buyer becomes the final owner of the property.
Taxes Related to Buying and Selling Property in Spain
There are four different taxes that can be associated with buying and selling property, and if the interested party is a foreigner, there are five.
| Tax Name | Description | Amount |
| --- | --- | --- |
| Property Transfer Tax (ITP, Impuesto de Transmisiones Patrimoniales) | Linked to the transfer of property. The rate depends on the region (municipality). Must be paid within 30 days after purchase. | 5 — 10% |
| Documentary Legal Acts Tax | Applicable only to homes. Depends on the region. | 0.75 — 1.5% |
| Income Tax (Plusvalía Municipal), paid by the seller | The seller reports the transaction to the town hall and later receives an email with the payment bill. | Amount depends on the year of construction and cadastral value of the house. |
| Property Tax (IBI, Impuesto sobre Bienes Inmuebles) | Charged by the municipality where the property is located. | 0.5 — 1.1% of the cadastral value |
| Non-Resident Tax for Personal Use | Income is calculated based on the cadastral value of the property. | If living in the property, 1.1 — 2%. If the property is rented, 19 — 24%. |
Renting Property in Spain
According to the real estate portal Idealista.com, the average rental cost in Spain in August 2023 was 12 euros/m². These are the highest figures in the last 5 years, although price increases occurred gradually. In 2018, the average rental cost was 9 euros/m².
It's worth noting that a new Housing Law came into effect on September 1st. This law, passed by the Spanish Senate in May 2023, changes the rules regarding rent increases. Depending on factors such as the total number of properties a landlord rents, the condition of the specific apartment, the recency of renovations, and even whether energy-saving technologies were used during renovations, landlords can increase rental prices.
For instance, if a house has been renovated within the past two years, and these renovations meet specific energy efficiency and improved accessibility conditions, the rental price can be increased by up to 10%.
Overall, the law sets limitations on contract renewals. Specifically, the annual increase in rental cost cannot exceed 2% in 2023, 3% in 2024, and a new limit is yet to be defined in 2025 for both major and minor property owners.
Apartments for Rent in Spain, Prices in September 2023*
| City | Price Euro/m² | Area (m²) | Cost (Euro/month) |
| --- | --- | --- | --- |
| Barcelona | 30.61 | 49 | 1500 |
| Granada | 15.31 | 49 | 750 |
| Madrid | 17.39 | 46 | 800 |
| Malaga | 13.9 | 50 | 695 |
| Palma de Mallorca | 21.54 | 65 | 1400 |
| Santiago de Compostela | 11.96 | 46 | 550 |
| Torrevieja | 13.42 | 52 | 700 |
Information about rental prices in Spain is taken from the spainhouses.net website for apartments with 1 bedroom and 1 bathroom.
How to Rent an Apartment or a House in Spain:
The best place to start your search for a rental property is with real estate portals. Here are some of the most popular ones (we have already mentioned some in our article):
enalquiler.com
idealista.com
fotocasa.es/alquila/
nuroa.es/alquila/
If you are already in the country, try looking for ads in local newspapers or by walking around the city. Many landlords don't register their properties in databases; they simply hang a modest banner "Se alquila" (For Rent) on the balcony.
Spaniards prefer personal communication to correspondence, so concluding an agreement before arriving in the country will be problematic (or more expensive), especially for long-term rentals. To get the best deal, meet the owner in person and try to build a good relationship.
But no matter how nice the owner is, you should not forget about your interests. Before signing the contract, carefully study all the conditions for utility payments and check the operation of all appliances.
Spanish laws allow the conclusion of an oral contract, but it is better to draw up the documents in writing. As a rule, the contract is drawn up for 1 year with the possibility of extension up to 5 years.
If during these five years the owner decides to evict the tenants, he will have to comply with certain conditions of the contract that protect the interests of the tenant.
In addition, during this time the rental price cannot rise faster than the Consumer Price Index (IPC).
To sign a contract in Spain, an immigrant will need the following documents:
DNI, or Foreigner Card (Tarjeta de Extranjero),
NIE (Employment Income Certificate or Bank Statement).
As well as money to pay the first month's rent and security deposit.
Money Transfers from Spain
Even when moving to Spain permanently, many immigrants maintain close ties with their home country. Money transfers to family and close ones are one of those connections that endure despite distances.
The KoronaPay mobile app helps immigrants maintain this connection in a simple and convenient way. By downloading the app to your smartphone, you can transfer money from Spain to 20+ countries at any time.
KoronaPay does not charge a commission for money transfers with currency conversion, meaning you can convert euros to tenge, sum, leu, or ruble at a 0% rate. It also sets a minimal markup on the exchange rate.
Download the KoronaPay app now and calculate your first transfer.
In our blog, we write extensively about work, education, and life in Europe. You can check out all articles here.