Employment for Nepalese workers in Europe
Currently, Nepalese citizens can enter 178 countries in the world with an individual work permit. Institutional permit (given by a special institution — employment agency) allows entering 111 more countries. However, intergovernmental labor agreements that protect foreign workers are only signed with a few countries. But according to Nepalese authorities, work is being done in this direction.
In this article, we will tell you how and where Nepalese people work in Europe, as well as provide recommendations on what to consider when looking for work and employment.
Previously, we gave insights how to transfer money to Nepal from European countries.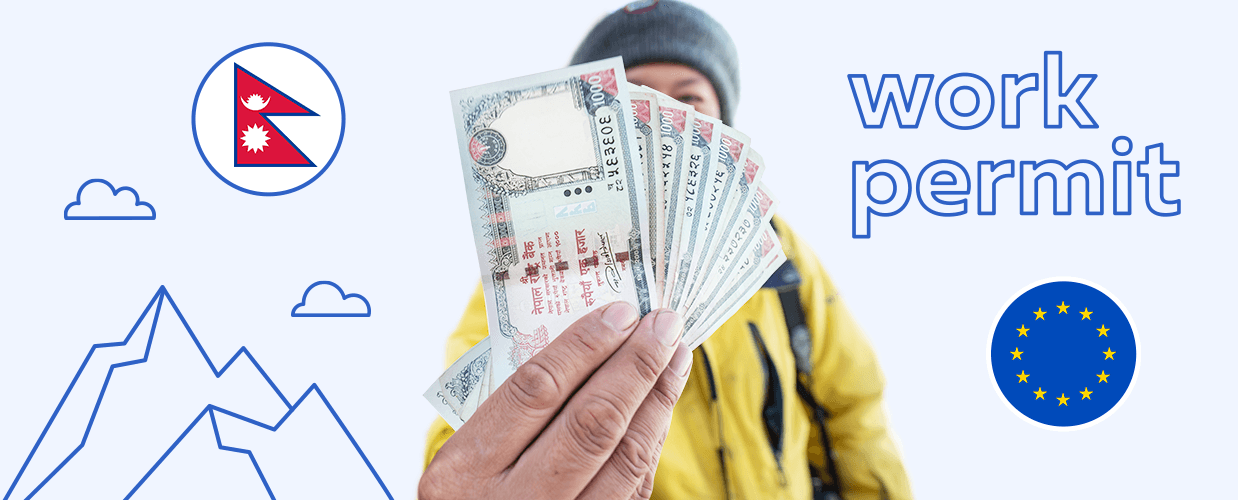 Nepalese workers in Europe
Almost 20 years ago, the Nepalese government began sending its citizens to work abroad on legal grounds, opening up various labor directions. Firstly, it was relevant to the countries of the Middle East (Saudi Arabia, Kuwait, Qatar, Bahrain, UAE, Jordan) and Asia (Malaysia, South Korea).
Given the growing market of these countries, hundreds of thousands of Nepalese left their motherland in search of higher salaries and better working conditions than at home.
At Kathmandu Airport, a separate terminal was created for workers leaving the country. Around 1,500 Nepalese were passing through this terminal per day in 2018-2019. At the same time, money transfers of labor migrants accounted for almost a third of the country's GDP — 20 billion euros.
In addition to the already mentioned regions, migration was also growing in European countries. At some point, Poland became the main hub for Nepalese migrants, and later entrepreneurs from Romania, Serbia, and other countries began actively hiring workers from Nepal. Here they work in HoReCa enterprises and in construction.
According to data published in BBC news in 2022, Cyprus and Croatia were countries where most Nepalese workers were hired through employment agencies. During the same period, Croatia topped the list of countries where Nepalese people came with individual work permits.
In 2022, the UK Cabinet of Ministers approved a "project" for a bilateral agreement to invite Nepalese nurses to work in the UK. This created 10,000 workplaces for 5 years.
After Brexit, British farmers also began to hire Nepalese people more actively, while previously most agricultural workers in the UK were from Poland, Romania, and Bulgaria.
Giving preference to European countries to work in, Nepalese citizens seek more comfortable working conditions and greater protection compared to Middle Eastern or Asian countries where violation of foreign worker rights is a very common practice.
However, problems do occur in Europe as well. Oftenly, they are related to fraudulent actions by employment agents who issue loans for document processing and transfers at exorbitantly high rates. Thus, after an investigation by British journalists was held, farmers temporarily stopped hiring Nepalese workers.
The Nepalese government has published recommendations on the official website. It is suggested to keep those in mind when searching for work and employment abroad.
1. Work permits are only issued by the Department of Foreign Employment (Tahachal district in Kathmandu). Documents can be submitted in person or through an employment agency.
2. When processing documents through an agency, make sure it has a valid license.
3. Find out what kind of work you will be doing, how much it will cost, how many hours you will work, is there an overtime pay, what is the contract duration. Clarify information about living conditions, etc. Sign the contract only if you agree to all the terms: country, company, position and profession, salary, etc. Always keep a copy with you.
4. Sign a contract with only one company.
5. Do not use the services of intermediaries as you may become a victim of fraud and end up working abroad illegally. No consulting firm, travel agency, currency exchange, intermediaries, or agents have a right to send you to work abroad.
6. Once you have obtained a work permit and insurance, you must pay the cost of the services to the employment agency's bank account. You must pay the specified amount in full and not more than what was initially stated. Make the payment at the main office, to the account of this agency.
7. Learn as much as you can about the country where you will be working: language, culture, customs, traditions, as well as traffic rules, basic laws, etc.
8. Before going to work abroad, find out the contacts of the Nepalese embassy in the destination country, as well as other organizations that can help with adaptation. Have their phone numbers on hand to contact them if necessary.
9. Obtain a health certificate with a hologram after a medical examination from a licensed medical institution.
10. Contact the government-appointed insurance company and get life insurance for at least 500,000 rupees (NPR) according to the duration of the contract.
11. You must provide a receipt for payment of a social security fund contribution of 1500 rupees (NPR). This payment must be made before departure. Without it, you will not be allowed to work.
12. Before leaving the country, you must undergo a two-day adaptation training at a specialized institution that provides such training.
13. Nepali citizens planning to work abroad must keep copies of employment-related documents at home and carry the necessary documents with them to avoid problems when leaving for work.
14. If you are traveling abroad for work, use Nepal's airport; otherwise, there is a risk of being deceived. Please do not buy plane tickets without obtaining a copy of the work permit. Do not travel abroad for employment using routes through other countries.
15. Have some money with you for the initial period.
16. Call 16600109999 if you have any complaints or important information. This is a toll-free number for the Foreign Employment Promotion Board. You can also report your problem at 16600150005.
17. If your work permit has expired, or if you are going to work abroad in a new country or company, you must obtain a new work permit (extension). Do not stay beyond the visa's validity period in a foreign country, as you may be held accountable under the law. Also, change your passport on time.
18. Remember about HIV/AIDS and sexually transmitted diseases.
19. Do not cause unnecessary disturbances while abroad.
20. If you cannot contact your employer because their name and address have changed, please contact the Department of Foreign Employment.
In March 2023, the Nepali Council of Ministers decided that work permits would be issued based on agreements with employers and visa validity. Previously, a two-year work permit was established, after which Nepali citizens had to return to the country and reapply for documents.
Ways to send money from abroad to Nepal
As we have already mentioned, the overwhelming majority of Nepali migrant workers work abroad to send home the money they earned to support their families and save money for buying or building a house, starting their own business, and other goals.
However, more and more Nepali citizens working in Europe are planning not to return home but to build a new life in the new country. This affects the structure of their expenses: they still send a large part of their earnings to Nepal, but they begin to set aside some money for settling in a European country.
Many migrants in Nepal use cash transfer services, but the most favorable conditions today are offered by online money transfer services and mobile apps.
How to transfer money to Nepal using the KoronaPay app
The KoronaPay mobile app allows sending money transfers to Nepal without a commission fee, and the limits allow transferring quite large amounts.
1000 euros within 3 months without identity confirmation;
1000-7500 euros within 6 months — provide a photo of passport/ID and a selfie;
7500-15,000 euros within 6 months — provide a photo or scan of a rental agreement or property document to confirm residency;
15,000 euros and more — provide an employment agreement or other document confirming sufficient income.
The documents can be uploaded directly in the application. Second level confirmation usually takes no more than a couple of hours.
KoronaPay transfers can be paid in euros or the national currency of the sending country (Polish zloty, Czech crown, Serbian dinar, etc.), and the recipient receives payment in US dollars.
Payment for the transfer can be made depending on the sending country in the following ways:
Debit card
Credit card
Bank account
Money can be sent from any European bank card, except for Poland, Bulgaria, and Romania. In these countries, transfers to Nepal can only be paid for with cards issued by local banks.
Try sending a money transfer using the KoronaPay mobile app. It is not difficult, very convenient, and most importantly, cost-effective. You can check the transfer conditions without entering personal information.
Instructions for sending a transfer:
Install the KoronaPay app, enter your phone number, and then enter the SMS code.
On the main (first) screen, click "Send transfer."
Select the destination country — Nepal.
Specify the amount to be received and select the payment method.
Enter the recipient's details — just the name and phone number will be enough.
Enter your own details as the sender.
Check all the transfer details in the generated electronic document and make the payment.
After the payment, a transfer code/number will be generated, which must be passed on to the recipient. The money will be delivered instantly.
Finally, it should be noted that for residents of Asia, moving to Europe does not only mean difficulties in obtaining documents, finding work and housing, which are experienced by many foreigners, but also troubles associated with adaptation in a completely unfamiliar environment. We hope that the articles on our blog will at least partially ease this process.