Free Education in Europe: Where to Apply in the EU
Obtaining higher education in one of the universities in Europe is a cherished dream for many applicants. But how can you do it when studying in the EU will probably require significant investments, lengthy communication with the consulate, and collecting a lot of documents?
In fact, things are not so complicated, although they will still take some effort. To begin with, we suggest familiarizing yourself with the basic information about studying in European universities, main requirements, and free admission options. We will cover all of this in our article.
Previously, we wrote about How to Open a Bank Account in Europe.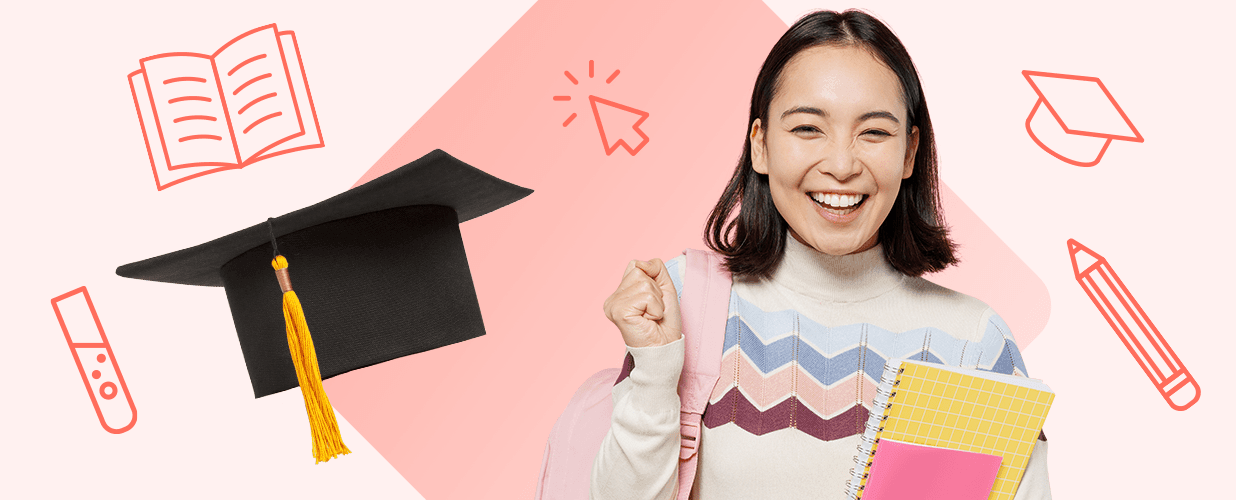 Bachelor's and Master's Degrees in Europe
The higher education system in Europe includes two levels: bachelor's and master's. The first one involves studying for 3-4 years and allows you to find a highly paid job after graduation. The master's degree is the second stage of higher education in the EU (1-2 years) and allows you to develop some special professional knowledge or continue your scientific career.
Studying in Europe is a very promising thing, as European diplomas are valued not only within the EU but also beyond its borders. Moreover, this education attracts applicants from almost all over the world due to accessible programs, the opportunity to receive a grant, scholarship, and study in Europe for free, as well as to start a career in a prestigious European company after graduation.
Although foreign students can be enrolled in both bachelor's and master's programs, the latter is in the highest demand. Firstly, having completed the first stage of higher education in their country of origin, the student approaches the choice of a further education and a career path more consciously. Secondly, in Europe, there are many more master's programs in English than bachelor's programs, and not all foreign students want to study in the national language, to some extent tying themselves to the country of study.
For example, in the Czech Republic, Poland, and Greece, free higher education can only be obtained in the national language (very rare exceptions are possible).
The largest number of courses in English (excluding the UK) is offered in the Netherlands, but studying there will require paying a tuition fee.
In addition, those who want to enroll in a master's program in Europe can count on a greater number of assistance programs. For example, the Erasmus Mundus project, which provides scholarships to foreign students, only works with master's students. We will tell you more about this later. The opportunity to study for free in the EU for a bachelor's degree also exists.
To give you an idea of the options for free education in Europe, we have put this information into brief notes and compiled them in a table.
Education in Europe, comparative table of conditions for obtaining higher education in some EU countries
| Country | Free education | Admission dates | What you will have to pay for | Grants, scholarships |
| --- | --- | --- | --- | --- |
| Germany | Yes, in state universities in German (C1), English. The certificate grade + grades for a year of the bachelor's program, interview results, CV and motivation letter are taken into account. | Application deadline for the winter semester is July 15th; for the summer semester — January 15th. Start of studies: October 1st/April 1st. | Semester fee 100-300 € (library use, travel pass, etc.). Dormitory fee from 200 €. | DAAD, Erasmus Mundus, Deutschlandstipendium, Heinrich Böll Scholarships, scholarships from political parties for students of political science, etc. |
| Poland | Yes, in Polish (level C1) or with a Polish Card, residence permit. Admission based on competition. Studying in English is fee-paying. | Summer enrollment: applications are accepted from October 1st to July 31st. The academic year starts on October 1st. Winter enrollment: applications are accepted from September 1st to January 31st. The academic year starts on March 1st. | Dormitory fee 300-800 zlotys. Deposit from 300 zlotys. | Study tours to Poland, CEEPUS, K. Skubiszewski scholarship program, Gaude Polonia for translators, Lukasiewicz scholarship, Erasmus Mundus, etc. |
| Czech Republic | Yes, in Czech (level B1-B2). Admission based on entrance exams. Tuition fee for studying in English. | Application deadline — February 28th or March 31st (depending on the field of study). Studies start from the beginning of October. | Dormitory fee 2000-7000 CZK. | Erasmus Mundus, CEEPUS, International Visegrad Fund, etc. Scholarships from the university for good academic performance. |
| Greece | Yes, in Greek. Admission based on certificate competition. It is possible to enroll without knowledge of the language, 1 year — language course (750 euros per year), after that — free of charge. | Documents are accepted until July 25th. It is necessary to start collecting them no later than January. The academic year starts in October. | Administrative fee 500-700 € per year. | IKY (State Scholarship Foundation), Hellenic Aid and the Ministry of Foreign Affairs of Greece, Erasmus Mundus. Scholarships from the university for high academic performance. |
| Italy | Yes, Italian, English (limited). Certificate competition, motivation letter, language certificate. | Documents are submitted from mid-April to the end of May. Studies start from November. | Administrative fee 800-1000 € per year. | Bocconi Undergraduate Merit Award, Erasmus Mundus, EDISU Piemonte Scholarships, Bologna University Study Grants for International Students, Politecnico de Milano Merit-Based Scholarships for International Students, Universita Cattolica International Scholarships, Scuola Normale Superiore PhD Scholarship. |
| Spain | No. Instruction is in Spanish and English. | The academic year starts in mid-September. | The tuition fees range from 900-1600 € per year. | Erasmus Mundus, Spanish Studies Abroad, scholarships from Instituto de Empresa, and other. |
| France | Yes, in French and English (limited). School performance is important for admission, entrance exams are sometimes required. | Applications are accepted from November to January. The academic year starts in September-October. | Academic fees range from 200 to 1000 €. | Eiffel Scholarship, Erasmus Mundus, university scholarships. |
Since in most EU countries education in school lasts for 12 years, applicants from post-Soviet countries where full secondary education takes 10-11 years will need to "catch up" 1-2 years when applying for a bachelor's degree at a European university. This can be done in two ways:
1-2 years of studying at a higher educational institution in their home country,
1 year of pre-university foundation courses.
Foundation is the general name for a one-year course for foreign students, which includes studying language and some subjects necessary for studying at a university in a chosen specialty.
Typically, studying in Europe on a foundation course is paid. In some countries, there are special preparation programs. For example, in Germany, foreign students are offered to study at a Studienkolleg before enrolling in a bachelor's program.
Studienkolleg is a specialized college at universities for foreign students. Studying there is free and lasts for 1 year. There is a semester fee.
In Greece, an applicant is instantly enrolled in a university even without knowing the language, but the first year is still devoted to learning Modern Greek.
As we have already mentioned, Master's programs are in higher demand in Europe. Their advantage is that not only recent graduates, but also those who have long graduated from university and are building their careers can apply for the second level of higher education. Moreover, it is a perfectly viable option for relocating permanently, even with the whole family. For this, one of the spouses needs to become a student, and the family can be relocated under the family reunification program. This scheme is relevant, for example, for relocation to Germany.
Education in a Master's program in Europe is possible in national languages and English. In most EU countries, free options can be found, as well as grants and scholarships to cover living expenses.
In a Master's program, it is possible to study only in the specialty/direction indicated in the diploma.
For example, with a diploma in pedagogical psychology, one can apply for a course in behavioral psychology or social pedagogy, but it will not be accepted to retrain as a PR or marketing specialist.
How to apply to universities in Europe
The application process for European universities varies from country to country and from university to university, but there are some basic points to consider. Let's look at how to apply for undergraduate and graduate programs.
As we have already mentioned, secondary education in most European countries lasts for 12 years. This is relevant for Austria, Albania, Belgium, Greece, Spain, the Netherlands, Germany, Portugal, and France. Children begin their education at the age of 6. This directly affects admission to bachelor's programs: graduates of 11-year schools cannot immediately become university students (see foundation above).
Documents required for undergraduate admission in Europe
High school diploma.
Academic transcript for at least one course with a list of subjects and grades.
Motivation letter in German or English.
Brief CV.
Language certificate.
Some higher education institutions may require other documents. All papers must be translated into the national language and certified. An apostille is required for educational documents.
An apostille is an internationally standardized form of document authentication that represents an information sign (stamp). It is better to apply for an apostille before translation and notarization.
It is significantly more difficult for college graduates to enter a European university, as a diploma in secondary vocational education is not highly regarded here. They will have to study at a university for 1 or 2 years and only then attempt to apply for a bachelor's program.
Applicants from non-EU countries should contact the International Office of the university they would like to attend to verify their qualifications for admission to the university. If the certificate from the country of origin is not recognized, then the applicant may be required to take exams or undergo other assessments of their knowledge level.
Documents required for graduate admission in Europe
Completed application form.
Copy of international passport.
Bachelor's degree diploma.
Transcript of grades.
Language certificate.
Certificate of passing additional exams (if required).
Motivation letter.
CV.
Recommendation letters (if available).
Future research project (required for some research programs).
Portfolio (required for admission to creative specialties).
Step-by-step instructions for entering a university in Europe:
1. Choose a country, university, and program. Determine the language of instruction, course, and requirements by looking at websites, program descriptions, and application deadlines. Find out the cost of living in the country, as well as the cost of tuition, housing, and other expenses.
2. Contact the admissions office to learn more about enrollment and student requirements. If this information is not available on the website, look for the application/questionnaire/registration form. Determine the exact list of documents required for a specific course/courses. It is recommended to apply to several courses at different universities.
3. Take language tests and other exams (if necessary).
4. Prepare documents, translate and certify them.
5. Fill out the application form and attach the documents. Wait for a response. Some universities require entrance exams or an interview, while others only need a CV, motivation letter, and transcript scores.
6. After receiving a positive response, apply for a visa.
In some countries, there are student portals where you can apply to several universities at once. In France, this is Campus France. Follow the link to the section for applicants in French.
We have already mentioned that studying in European public universities is free, but there are other expenses besides tuition. These can be covered by various scholarship grants. Let's look at some of them.
Erasmus Mundus and Erasmus+
Two of the most popular and prestigious scholarship programs, working with dozens of universities, are Erasmus Mundus and Erasmus+. The former is for master's and doctoral degree programs, while the latter involves student exchanges between universities. Let's focus on the first program.
Erasmus Mundus Joint Master Degree (EMJMD) provides funding for obtaining a master's degree at more than 4,000 European universities. EMJMD participants study not only in one university, but change their place of study every semester.
The Erasmus Mundus grant covers the following expenses:
tuition,
transportation,
use of libraries and laboratories,
visa processing,
health insurance,
accommodation in the country.
To receive funding under the Erasmus Mundus program, you must have a bachelor's or master's degree and a high GPA, as well as demonstrate proficiency in English with an IELTS score of at least 6.5 or a TOEFL score of at least 90.
CEEPUS
CEEPUS is the Central European Exchange Program for University Studies, an academic exchange program for research and education involving 15 Central European countries. It offers both teachers and students the opportunity to study abroad at partner universities.
Participation in CEEPUS is only possible after two semesters of study. For students from countries that are not part of this university project, a free mover scholarship is available.
DAAD
DAAD is the German Academic Exchange Service: a self-governing organization of German universities that brings together more than 200 German universities. DAAD has 15 foreign offices and awards about 100,000 scholarships per year.
When selecting candidates for a scholarship program, academic performance, exam results, scientific qualification, the quality and relevance of the research project, motivation, and knowledge of German or English language are taken into account.
Finally, regarding the review of opportunities for free higher education in Europe, let's answer some of the most frequently asked questions.
Is it really possible to study for free in Europe?
Yes, many EU countries offer free education for foreigners in state universities. Fees may be charged for the use of libraries, laboratories, and other facilities. All these costs are included in the semester fee.
What expenses are covered by the study grant?
Conditions vary. The grant/scholarship may cover tuition fees, if any, and living expenses. The grant may be a fixed amount or determined individually.
Can a foreign student receive a scholarship at a European university?
Yes, some universities pay scholarships to foreign students with good academic performance.
What is a blocked account?
Some EU countries require students to open a bank account and deposit a sum of money required for living expenses. The student can withdraw a fixed amount each month.
Money transfers from Europe
Often, those who go to study in Europe start earning money from the first days of their student life. However, they not only spend the money on their life in a European country but also send part of the funds to their loved ones back home. This could be money for a birthday present, material assistance in a difficult period, or just a financial surprise for any other occasion.
The KoronaPay mobile app helps transfer money without a commission. It can be downloaded from the App Store and Google Play. The app works in almost all EU countries, as well as in the UK, Norway, Switzerland, and other countries, and allows you to send money transfers to 20+ countries, including the CIS.
In our blog, we write a lot about living and working in Europe. You can see the full list of our articles here.