How to Buy a Property in Germany
If buying real estate in Germany is on your radar, it might be wise to exercise some patience in 2023, as the situation in the German property market is rather unstable.
In this article, we'll delve deeper into this scenario and explore key factors to consider when buying or renting property.
We've previously discussed how to buy an apartment in Poland.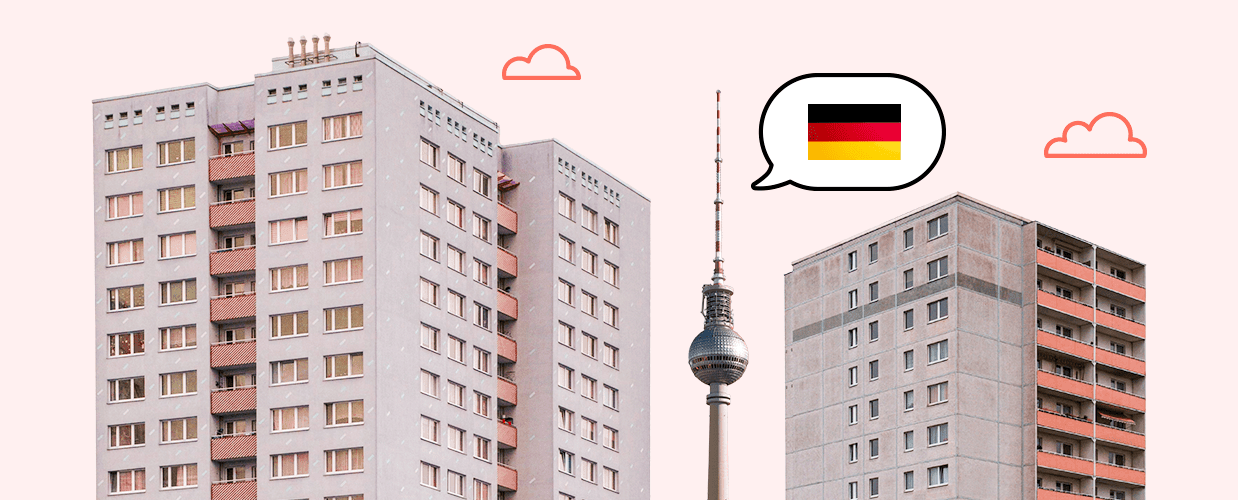 The Real Estate Market in Germany
For those looking to buy an affordable apartment in Germany, the journey ahead may be challenging. Property prices in Germany have been steadily climbing, up by 35% since 2013. Inflation is driving up mortgage interest rates, while wages are struggling to keep up—making planning a property purchase less favorable in such conditions.
Due to high interest rates and inflation, construction loans are no longer attractive to developers. The unpredictable market has made it difficult for contractors to foresee how things will unfold.
New construction orders are few and far between, and ongoing projects are often being scaled back. The declining number of construction permits issued further substantiates the waning interest among developers.
In December 2022, the Federal Statistical Office announced a 14.2% decrease in applications for multi-family house construction compared to the same month in 2021, and a 15.9% drop in applications for single-family homes.
As a result, there's a shortage of new construction and real estate development, with buyers primarily choosing from existing properties. Consequently, finding an affordable apartment in Germany within the secondary market is becoming increasingly challenging. Demand clearly outweighs supply, pushing prices upwards.
This decrease in construction activity also affects the rental market. Despite government controls, inflation and a shortage of supply have led to a sharp increase in rental prices in Germany.
In 2023, the price index showed only a minor downward trend. The German Institute for Economic Research considers a 10% drop in prices to be realistic. However, in reality, as of January 2023, prices for new homes have only increased, rising by 1.31%. The cost of apartments in major cities is also on the rise. The question of when you'll be able to buy an affordable apartment in Germany, whether new or on the secondary market, remains unanswered for now.
Is it More Beneficial to Buy or Rent an Apartment in Germany?
According to publicly available statistics, more Germans prefer renting over owning a property—57% opt for renting, while fewer own property. On one hand, this is influenced by government policies that make renting the more comfortable choice. On the other, owning property isn't seen as an essential rite of passage in the lives of Germans. Renting an apartment in Berlin, for instance, is often seen as a simpler way to settle down. Thus, many don't even consider buying.
For foreigners, renting an apartment in Germany for an extended period is a good option. Renters are protected by law; rental contracts are typically indefinite, and landlords cannot evict tenants or change rent rates without notice. Long-term apartment rentals are also advantageous for property owners in Germany, as they offer a consistent income that can be easily adjusted for inflation.
Renting an apartment in Germany is convenient for those who don't plan on staying in one place for too long and prefer paying less, even if it's not for square meters they own. While you can't change the apartment's design, you also don't have to deal with the hassles of repairs and management companies.
On the other hand, purchasing real estate expands your options but comes with certain commitments. While it's easier to make decisions regarding renovations, design, furniture, and appliances in your own apartment, mortgage payments may be higher than rent for a similar apartment. Additionally, you'll have to manage maintenance and repairs independently, communicate with property management companies, and establish long-term relationships with neighbors.
Social Housing for Migrants in Germany
Social housing, or "Sozialwohnungen," refers to homes or apartments that holders of a housing certificate can rent at reduced rates. The property owner loses nothing, as they receive a subsidy from the government.
To obtain a housing certificate, you can apply at your local housing or district office, with costs ranging from 10 to 20 euros. The requirements are as follows:
Permanent residence in Germany or a valid residence permit for at least one year.
Being of legal age.
The family's income does not exceed the maximum limit, determined by the Housing Promotion Act.
The income limit is calculated according to Section 9 of the law. For a single person, it's 12,000 euros per year, and for a couple, it's 18,000 euros. For each additional person, 4,100 euros are added to the limit, and for each child, 500 euros. If the family's income falls below the minimum, a Type A certificate is issued. In this case, housing will be allocated by the municipality.
A Type B certificate indicates that the owner's income exceeds the limit. Such families can choose from apartments that are slightly more expensive to rent than those under a Type A certificate. They will need to find suitable housing themselves.
Since there are more people seeking social housing in Germany than available housing, a priority system is in place. Applications from pregnant women, single parents, retirees, chronically ill individuals, and disabled persons are given priority.
How to Find an Apartment or House in Germany
In Newspapers
The classic way to find real estate in Germany is through local newspapers. However, most of the listings there are for rental properties rather than sales. For a broader selection, you can check daily regional newspapers where offers from agencies, developers, and private sellers are published once a week.
Searching for homes through newspaper ads is considered inefficient. The real estate sections are small, there are few listings, and complete information about the property doesn't fit on one page. Often, there aren't even any photos.
Real Estate Agent
A reliable but more costly way to find suitable real estate is to hire a broker or real estate agent.
Pros: Speed and minimal effort on your part. Brokers keep an eye on the market's emerging listings and typically present them to their clients first before listing them on websites. The agency will provide assistance with all aspects of the real estate purchase.
Cons: The cost. This option is suitable for those willing to pay several thousand euros for the services of a real estate agent.
Websites for Renting or Buying Property
There are numerous websites that offer property listings for buying and renting in Germany. These websites allow you to conveniently compare apartment prices and monitor rental costs in Germany. You don't need to pay to view listings, and there are sorting options to help you find a suitable property quickly.
Here are a few popular websites for property rental and purchase in Germany:
immobilienscout24.de
immonet.de
immowelt.de
s-immobilien.de
ohne-makler.net (without intermediaries)
wohnungsboerse.net
Property portals do have their downsides. There are many listings from brokers rather than private owners. However, you can filter these out, as agents less frequently include the property's address in the listing compared to property owners.
In general, if you have the time and inclination, you can focus on searching directly on these websites. Even if you decide on a broker's listing, you can often split the fee with the property owner, resulting in at least a 50% reduction compared to hiring an agent solely for yourself.
You can also directly select options from real estate agencies, brokers, and developers on their websites. For example, here are some agencies that have been in the German real estate market for over a decade:
Engel & Volkers
Guthmann
Graf Immobilien
Banks also engage in intermediation, assuming that a satisfied client will seek financing to make the purchase.
You can also search for apartments in regional or city groups on social media. Property listings by owners are often posted on platforms like Facebook. Try searching using hashtags (keywords), for example, "condominium."
Where to Buy a Property in Germany and What Influences Prices
First and foremost, consider your future purchase from the perspective of personal comfort. If you don't have preferences and haven't decided where you'd like to live, it's a good idea to rent an apartment in an area you like for some time. It can be difficult to exchange a house already purchased in an unsuitable location.
Factors Affecting Property Prices
Let's look at the most important factors that shape property prices in Germany.
Location of the Property
Major cities are popular, and prospective homeowners are willing to pay substantial amounts for apartments in the city center. Buying a cheap apartment in Berlin or Munich is almost impossible. Prices there are higher than in other German cities. However, houses in nearby suburbs and rural areas are often more affordable.
Supply and Demand
Prices drop when there are more sellers than buyers. The demand for different types of real estate and federal states varies significantly. Therefore, property can be more expensive in some places and cheaper in others.
Condition and Age of the Property
Buyers often prefer new buildings, which is linked to government measures. Real estate in good energy condition or buildings renovated for energy efficiency purposes receive subsidies. However, in general, new homes are more expensive than existing ones.
Construction Costs
Inflation has led to rising prices for cars, materials, and services provided by construction professionals. Consequently, the cost of real estate, including new buildings and renovated properties, is also increasing.
Property Prices in 2023
Now, let's determine how much an apartment costs in Germany. According to data from the Immowelt platform, the average price per square meter for condominiums in Germany is €3,356. In large cities and metropolitan areas, real estate prices are higher.
| Federal State | Price per m², euros |
| --- | --- |
| North Rhine-Westphalia | 2,826 |
| Bavaria | 4,696 |
| Baden-Württemberg | 3,748 |
| Lower Saxony | 2,618 |
| Hesse | 3,564 |
| Rhineland-Palatinate | 2,706 |
| Saxony | 1,878 |
| Berlin | 5,117 |
| Schleswig-Holstein | 3,651 |
| Brandenburg | 2,668 |
| Saxony-Anhalt | 1,588 |
| Thuringia | 1,766 |
| Hamburg | 6,424 |
| Mecklenburg-Western Pomerania | 2,618 |
| Saarland | 1,991 |
| Bremen | 2,876 |
Prices for Houses in Germany
The Immowelt platform reports that in 2023, the average cost of a finished house is 2,971 euros per square meter. In Hamburg, housing will cost you 5,781 € per m², while in Munich, it's as high as 10,420 € per m².
| Federal State House | Price, euros per m² |
| --- | --- |
| North Rhine-Westphalia | 2,910 |
| Bavaria | 4,005 |
| Baden-Württemberg | 3,631 |
| Lower Saxony | 2,302 |
| Hesse | 3,064 |
| Rhineland-Palatinate | 2,395 |
| Saxony | 1,735 |
| Berlin | 5,421 |
| Schleswig-Holstein | 3,114 |
| Brandenburg | 2,698 |
| Saxony-Anhalt | 1,412 |
| Thuringia | 1,508 |
| Hamburg | 5,781 |
| Mecklenburg-Western Pomerania | 1,998 |
| Saarland | 1,721 |
| Bremen | 2,810 |
Prices for New Buildings
In 2023, the average cost of a new building in Germany is 530,211 euros. This price increase is a result of rising construction and land costs. Buying new real estate in Germany is most expensive in Hamburg and least expensive in Saxony-Anhalt.
| Federal State Land | Price, euros per m² |
| --- | --- |
| North Rhine-Westphalia | 154.78 |
| Bavaria | 425.86 |
| Baden-Württemberg | 284.76 |
| Lower Saxony | 99.56 |
| Hesse | 211.97 |
| Rhineland-Palatinate | 113.32 |
| Saxony | 117.53 |
| Berlin | 708.25 |
| Schleswig-Holstein | 113.82 |
| Brandenburg | 708.25 |
| Saxony-Anhalt | 45.20 |
| Thuringia | 50.07 |
| Hamburg | 1,127.89 |
| Mecklenburg-Western Pomerania | 57.65 |
| Saarland | 109.14 |
| Bremen | 254.55 |
What to Consider When Buying Property
1. Calculate Additional Costs in Advance
You may have found a suitable house or apartment at a good price. However, keep in mind that the purchase price does not include various fees associated with property transfer, the services of a broker, and a notary. These fees can add up to an additional 13% to the purchase price, depending on the type of property and the federal state.
Since December 23, 2022, a law regulating broker fees for property sales contracts has been in effect. According to this law, the party hiring the broker must pay at least 50% of the commission. This means that the seller and buyer of the property share the broker's fee, reducing the financial burden on the buyer. This is generally considered good news.
The broker's commission typically amounts to 7.14% of the property's price. Even if this commission is halved, it still represents a significant sum.
The property transfer tax varies from state to state and is typically around 3.5-6.5% of the home's value. You can find online calculators for additional costs, which include registration fees, broker commissions, notary fees, and property transfer taxes specific to each federal state.
Sometimes, a "letter of intent" is signed between the seller and the buyer, which includes a down payment (typically around 500 euros). After signing this document, the seller removes the property listing from all platforms. If the transaction goes smoothly, the down payment is credited toward the property's purchase price. Otherwise, the money remains with the seller as compensation for their time.
Pay attention to the property description. If you see phrases like "grosszügige Räume" (spacious rooms), be prepared for higher heating costs.
2. Check the Property Management Reserve Fund (WEG) for Apartments
This is particularly relevant for those purchasing apartments. If the reserve fund is very high, it may indicate that the building has not undergone renovations for a long time, and new owners may face unforeseen expenses.
Maintenance and repair of common areas are the responsibility of the property management reserve fund (WEG). As a condo owner, you'll be in regular contact with them. Before buying, it's advisable to meet with a WEG representative, review the site plans, house rules, financial reports, and more.
3. Required Documents for Buying or Renting Property in Germany
The number of documents a seller is willing to provide indicates the seriousness of their intent. As a minimum, you should obtain all essential documents and information about the property:
Official municipal map,
Land register entry and registered land tax payments,
Floor plans and construction permits,
Energy performance certificate.
Additionally, as a buyer, you'll need documents relevant to securing financing through a bank. When preparing to apply for a mortgage, gather the following paperwork:
Proof of income, income tax declarations, pension notifications,
Schufa report (credit history) with asset confirmation,
Proof of personal insurance.
You'll also receive documents from the property owner.
These document packages can vary. You might receive additional documents, and some may not be provided.
4. Schedule an Appointment with a Notary
You should consult a notary after securing financing from a bank (if the property is being purchased with a mortgage). There should be no more than two weeks between signing the contract and appointing a notary. This is because, by law, a borrower can terminate a mortgage contract with a bank within 14 days.
Notaries are essential, as property purchase contracts can be extensive and challenging for individuals without legal backgrounds to fully comprehend. A notary ensures there are no hidden terms or loopholes. Typically, before signing the documents, the notary reads the agreement aloud in the presence of both parties and addresses any questions.
When buying an apartment or house, keep these points in mind:
Check if there are any belongings left behind by the previous owner. If so, the notary can help list the former owner's property separately in the contract.
You need to register a notification of transfer. Simply signing a property purchase agreement won't make you the property owner. The property will officially transfer into your possession after you submit a notification of transfer to the land register. This typically takes a few weeks. The notification is essential to prevent the property from being resold to someone else.
Can a Foreigner Buy Property in Germany?
Yes, of course. The Civil Code of Germany does not impose any restrictions on the purchase of real estate by non-residents. It is not necessary to possess a residence permit for this purpose.
Any foreigner can apply for a mortgage in Germany, but those who permanently live and work in the country have a higher chance of approval. Cross-border mortgages are granted less frequently and often require a higher down payment (up to 40% of the property's value). Interest rates for foreigners are typically higher than for locals because banks perceive a higher risk — it might be easier for someone to leave the country than to fulfill their credit obligations.
Having residency or a residence permit in the country can make a foreigner a less risky client for a bank.
Is it Possible to Obtain a Residence Permit (VNZ) After Purchasing Property?
No, German laws do not provide for granting residence permits to financially independent individuals solely based on property ownership. However, it is possible to apply for a self-employment visa and rent out the property.
Money Transfers from Germany
In addition to searching for affordable housing, many migrants have questions about sending money back to their home countries. The KoronaPay app can help with this. You can transfer money with no fees and minimal exchange rate markup.
The app offers money transfers to 20+ countries. Making a transfer is simple, and delivery is almost instant.
The app is available on the App Store and Google Play. Download KoronaPay app and make cost-effective money transfers.
You can find more articles about working and studying in EU countries on our blog. Follow the link to read other articles.