How to Move to and Find Work in Ireland
Known to some as the "Silicon Valley of Europe," Ireland serves as the European hub for several of the world's largest tech companies. With an economy steadily growing by €16 billion annually, the country is second only to the United States in software services exports.
By focusing on developing a post-industrial economy, Ireland actively attracts highly skilled professionals, promising them not only exciting projects but also competitive salaries.
This cozy island nation draws migrants from around the globe, enticed not just by its high average salary (€44,202 per year or €3,683 per month) but also by its stable, well-organized way of life and stunning natural beauty.
If you're one of those who are interested in living in Ireland, read on as we delve into all the crucial details about obtaining a visa and finding employment in the Republic of Ireland.
Previously, we discussed how a migrant can find a job in Spain.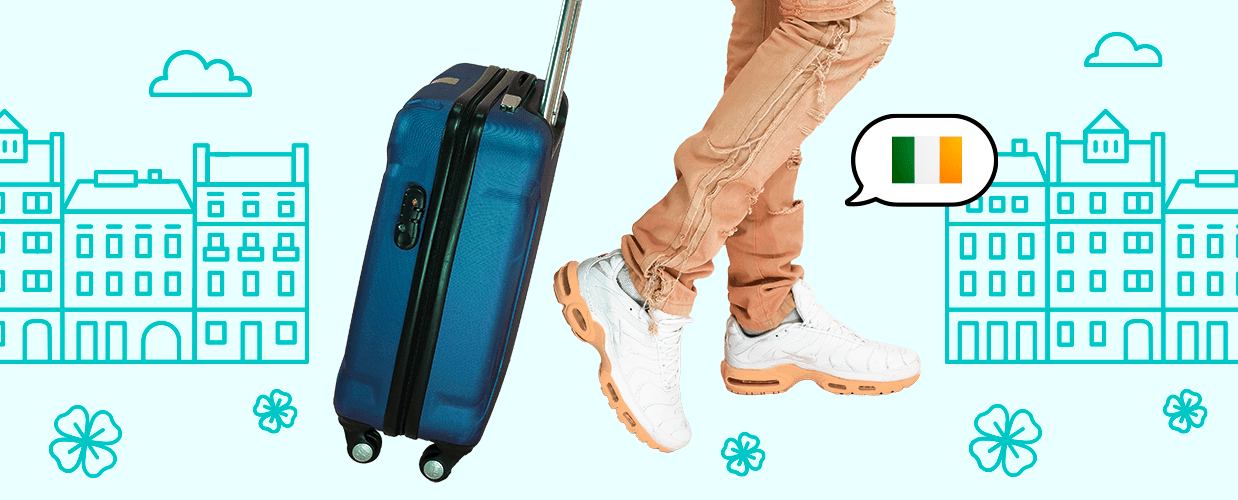 Ireland Visa Permission
Pre-clearance is a document introduced by the Irish Naturalisation and Immigration Service. It applies to certain non-European Union (EU) citizens who intend to live and work in the country.
The pre-clearance process was put in place to simplify immigration for candidates, making it easier to secure a visa and complete the move to Ireland quickly. Access to the program is limited, and applications can only be submitted by:
Partners/spouses of employees who are invited to work in Ireland due to critical professional skills
Partners of Irish citizens
Volunteers
Religious ministers
Applicants must fill out the pre-clearance application form, provide documents confirming their eligibility in one of the above categories, and pay a €100 fee. Once approved, applicants receive permission that is valid for six months.
For citizens of visa-required countries, this permission allows them to apply for a Category D visa. Otherwise, entry into Ireland can occur almost immediately.
Types of Visas in Ireland
The Irish consular services issue two main types of visas.
Short Stay "C" Visas
These visas allow the holder to stay in the country for up to 90 days. This category includes visas for:
Irish tourism or visiting
Non-typical work
Internship
Marriage
Education
Medical purposes
The specific category assigned to the visa depends on the purpose of the visit.
Long Stay "D" Visas
These visas allow the holder to stay in Ireland for more than 90 days. This type is necessary for those planning to work, study, or join a family member in Ireland. The Irish "D" visas include:
Resident
Business
Work
Education
Family reunification
Visa holders in the "D" category also receive an Irish residence permit (GNIB card) valid for 2 to 5 years, allowing them to live in Ireland, leave, and return.
Immigration to Ireland
Requirements for applicants vary depending on their intentions, but there are some common criteria. The applicant must:
Possess a valid passport with a minimum of 6 months' validity beyond the intended date of departure from Ireland.
Abide strictly by the declared purpose of their visa. For instance, if you arrived on a work visa, you cannot study.
Depart Ireland upon the expiration of the visa or take measures to extend or obtain a new one.
Be able to demonstrate the means to support themselves and any dependent family members financially.
Documents for an Irish Residence Permit
The requirements for the document package are individual, depending on the chosen immigration route, but typically include:
Valid passports and travel documents.
Previous visas, including any rejected ones.
Two passport-sized photographs.
A letter of application, including a written explanation of the purpose of the trip to Ireland.
Information about the intended Irish address.
Comprehensive financial proof, including bank statements demonstrating the ability to support oneself and dependents during the visa's validity and the absence of reliance on Irish state benefits.
Evidence of significant ties to the home country, such as property or family.
Other documents verifying the purpose of the trip, e.g., a bachelor's degree, a work permit, an acceptance letter, etc.
Confirmation of insurance coverage.
A copy of your medical card if you have one.
Any documents not in English or Irish must be accompanied by notarized translated copies.
The application process can be completed online from any country. You'll need to provide personal information and verify your identity and intentions. The processing time for a candidacy ranges from three weeks to several months. During this time, closely monitor your email, as notifications regarding missing documents or requests for additional information may be sent there.
Life and Work in Ireland
Immigration programs to obtain permanent residency in Ireland follow standard routes, including acquiring education, finding employment, or reuniting with family members. Skilled workers, especially those with critical skills, may receive assistance in relocating.
Working in Ireland
To secure a job in Ireland, the initial steps involve obtaining a job offer and signing an employment contract. Afterward, you can apply for a work permit along with an immigration permit.
Ireland offers nine types of work permits:
Critical Skills Employment Permit: This is designed for highly skilled professionals, such as engineers and technologists. There is a specific list of eligible professions.
General Employment Permit: Allows work in a wide range of professions.
Intra-Company Transfer Permit: Facilitates the transfer of senior management, key personnel, or trainees within multinational companies.
Exchange Agreement: Simplifies the employment of non-EEA nationals under specific reciprocal agreements between Ireland and other countries.
Spouse/Partner/Dependent of a Critical Skills Employment Permit Holder: For the spouse or partner of a critical skills employment permit holder.
Contract for Services Permit: For individuals providing services following the award of a service contract by an Irish entity.
Reactivation Permit: Helps individuals who have previously held a permit but lost it for reasons beyond their control.
Internship Permit: Facilitates employment for those planning to work in professions requiring critical skills for the purposes of gaining experience and training.
Sports and Cultural Permits: A special visa for athletes and individuals qualified to engage in cultural activities.
Studying in Ireland
Foreign nationals wishing to pursue education in Ireland typically receive a long-term student visa. Initially, a visa is issued for 3 months and can be extended for the required duration. Graduates may seek employment and apply for an Irish Residence Permit (IRP).
To begin, students must choose an educational institution and gather necessary documents. Finding accommodation, acquiring a visa, arranging finances, and other factors need to be addressed. It is recommended to start the application process at least a year before the intended start of studies.
The Irish higher education admission system is competitive and is based on high school graduation certificates. International students can either:
Obtain the necessary certificate from an Irish educational institution.
Take an equivalent official exam in their home country.
Once accepted, students receive an acceptance letter from their chosen institution.
English language proficiency is required and should be supported by a corresponding certificate.
Reuniting with Relatives
The right to a family visa in Ireland extends to:
Spouses or partners
Children under 18
Elderly parents
The relative in Ireland must be:
A citizen of Ireland/the EU/EEA
A non-EEA national legally residing in Ireland
A foreigner with Stamp 4 or 5
A religious worker with Stamp 3
A student
Stamps are immigration permissions, each regulating the duration and conditions of stay in Ireland. For instance, Stamp 5 permits an indefinite stay. Your relative should be aware of their stamp and the rights it grants them
.
Buying Property in Ireland
A unique program has been in place since July 1, 2023. Ireland will pay those who commit to buying and renovating property on participating islands. The initiative aims to rescue abandoned houses on 30 Irish islands and increase population density. Around 3,000 people live on these islands permanently. The chosen property must meet two criteria: it must have been vacant for at least 2 years and must have been built no later than 1993.
In general, there are no obstacles for foreigners to buy property in Ireland. However, property ownership is not a basis for obtaining a visa or residence permit. Nevertheless, you can still leverage this program. For instance, by receiving an invitation for remote work from an Irish company, along with a visa. Upon moving to Ireland, you can use the government subsidy to renovate your property.
In-Demand Professions in Ireland
Ireland is one of the fastest-growing economies in the European Union. Due to its continuous development, there are several key fields where fresh talent is particularly in demand. Having a high level of qualification in these areas increases your chances of finding employment and immigrating to Ireland.
Critical Skills Occupations
The list of critical skills occupations is published by Ireland's Department of Enterprise, Trade, and Employment. It includes industries and qualifications that are in high demand in the country:
Information Technology
Construction
Accounting and Finance
Design
Linguistics
Healthcare and Nursing
Science and Education
Customer Service
Engineering
You can review the full list on the official website.
Professionals in these fields, as listed, can expect to immigrate to Ireland under simplified conditions through a special work permit. This not only helps avoid bureaucratic red tape but also enables you to bring family members with you—they'll also receive long-term visas and the right to work legally in the country. With these incentives, the government encourages immigration of professionals and fosters long-term settlement.
To obtain a Critical Skills Employment Permit, you must secure a minimum two-year employment contract in Ireland in a field with a pressing need for qualified professionals. Then, you can apply through the Employment Permits Online System (EPOS). The site provides a user guide that details the application process and document requirements.
The processing fee for your application is €1,000, which is refundable if your application is not approved. You can learn more about the Critical Skills Employment Permit on the official government website.
Top 10 Most In-Demand Jobs in 2023
According to the job aggregator GrabJobs, in 2023, the following specialists are in high demand in Ireland:
Automation Engineer
Sustainability Manager
Data Scientist
Compliance Officer
Software Engineer
E-commerce Manager
Web Developer
Mortgage Underwriter
Construction Manager
Digital Marketing Specialist
How to Find a Job in Ireland
If you are not a citizen of one of the European Economic Area (EEA) countries, you will need to obtain a work permit. Additionally, it is advisable to check if your profession is on the critical skills list, as this list determines whether work permits are granted.
To secure a job offer, you'll need an excellent command of spoken and written English. Knowledge of other languages, especially if the company is international, can be a plus. Professionals in IT, science, finance, HR, and healthcare are highly sought after in Ireland.
Start by preparing your resume. It should include your personal information (including contact details), details of your education and employment history, skills, and recommendations from previous employers.
Qualification
If your profession requires a specific qualification, you should contact a specialized body for skills assessment. Degrees from other countries are usually equivalent to Irish qualifications. However, there is a possibility that you may need additional training or exams to meet a company's expectations.
If you successfully pass the skills assessment, you will receive a Statement of Recognition of Qualifications, which officially confirms your abilities.
Job Search in Ireland
Recruitment Agencies
Seeking help from a company specializing in recruitment and employment is an excellent resource for job hunting. Recruitment agencies in Ireland are not allowed to charge for their services, so their assistance is not only beneficial but also free.
If you can come to Ireland without a job offer and a work permit, it's better to do so before approaching recruitment agencies. Visiting the country demonstrates your serious intentions. Recruiters are much more interested in highly skilled professionals who already have an Irish phone number and a local address
.
However, this method of job hunting may not be the fastest, as agencies deal with a vast number of applications and may have slow response times. It's recommended to reach out to several recruitment agencies at once to increase your chances of a response. But applying for the same job through multiple agencies is discouraged.
Websites for Job Searching in Ireland
The internet offers an abundance of job search resources, and the number of websites where job postings are available continues to grow. Some websites even focus exclusively on specific industries, such as construction or agriculture.
Interestingly, job search websites in Ireland not only list vacancies but also provide advice on crafting resumes tailored to the Irish job market, adapting cover letters, and offer tips for interviews.
Here are some of the most popular job search websites in Ireland:
Jobs.ie
RecruitIreland.com
IrishJobs.ie
JobsIreland.ie
Employee.ie
CareerBuilder.com
DublinWork.com
JobsGuideIreland.com
Osborne.ie
Websites dedicated to job searches in specific fields:
Agriculture: AgriRecruit.ie
Construction: Construction-Jobs.ie
Education: EducationPosts.ie
Finance: FinanceJobs.ie
Healthcare: HealthcareJobs.ie
IT: GlassDoor.com
Marketing: Prosperity.ie
Flexible work options for parents: EmployMum.ie
If you've arrived in Ireland but don't have internet access yet, you can use publicly available computers in the local library.
Social Media
Many Irish job seekers also use social media platforms such as Twitter, Facebook, and especially LinkedIn to find employment. LinkedIn is particularly popular and widely used by companies for recruitment purposes. Therefore, consider creating and optimizing your LinkedIn profile.
Open Days
Some organizations host open days or similar events that can help you find employment. Treat attending such an event as you would a job interview: dress professionally and prepare copies of your resume to distribute. Ensure that your contact details are included on every copy.
Volunteering
Through the Volunteer Ireland website, you can explore volunteer opportunities throughout Ireland. Volunteering can be a valuable way to gain experience and integrate into Irish society.
State Employment Services
Known as Intreo, this government organization provides support to job seekers, including resume preparation, job matching, and interview guidance. These centers also address questions related to starting your own business in Ireland.
Employment Support for Immigrant Communities in Dublin (EPIC)
EPIC is an organization that assists immigrants living in Ireland. They perform similar functions to Intreo but specialize in helping newcomers. You can contact them through their Facebook group.
What's next?
After you have been offered a job, you need to apply for an Irish Personal Public Service Number (PPSN) — a unique number that the government uses for personal identification. PPSN will be required for you to open a local bank account, access government services, and receive social payments. Your employer will use this number to file a tax declaration
.
Money Transfers from Ireland
Moving to a new country is always accompanied by a lot of hassles. You have to figure out not only how to get a visa to Ireland and subsequently a residence permit but also how to safely send money transfers back home, for example, to elderly parents. This is where the KoronaPay mobile app can help.
You can send money to over 20 countries. The process of sending money takes only a few minutes, and the delivery to the recipient is instant. There are no fees for currency conversion for these transfers.
You can view all the articles on our blog about moving to European countries by following this link.