How to Obtain a Residence Permit in Italy
As of 2022, Italy is home to over 6 million immigrants, which is more than 10% of the country's population. These significant numbers can easily be explained by Italy's developed economy, culture, and industries.
The residence permit in Italy offers ample opportunities for travel and employment within EU countries. Here's how to obtain a residence permit in Italy and who is eligible to do so.
Previously, we wrote about salaries in Germany.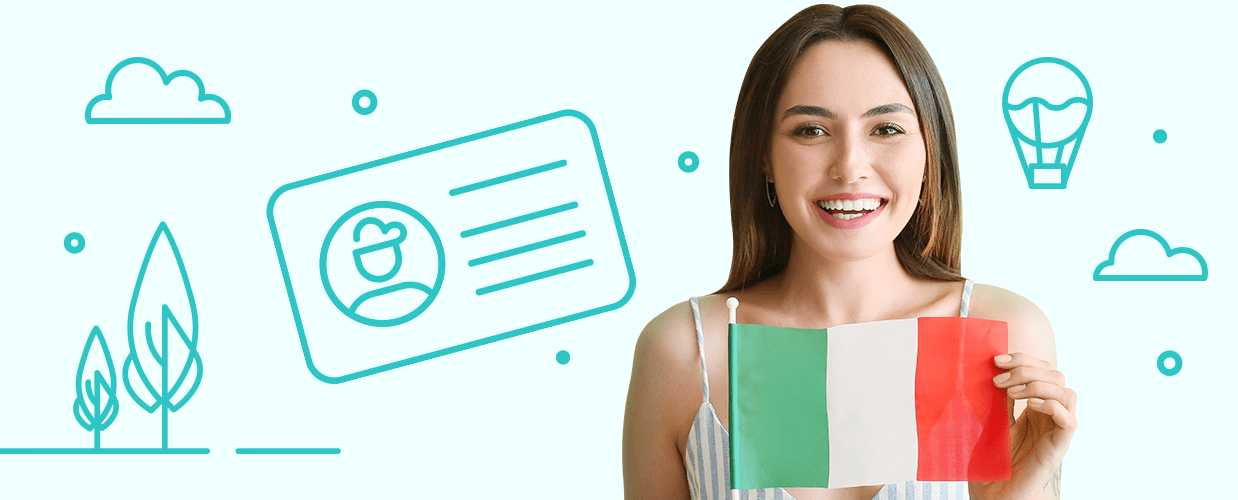 Conditions for Obtaining a Residence Permit in Italy in 2023
The Italian residence permit, "permesso di soggiorno," is usually issued for a period of up to 5 years. After living in the country for 5 years, you can apply for permanent residence, and after 10 years, you may become eligible for citizenship.
To enter the country, you'll need to apply for a long-term visa (type D) at an Italian embassy or visa center outside of Italy. The following documents will be required:
Consent for the processing of personal data.
International passport. It must be valid for at least 3 months beyond the visa's expiration date.
Copies of all filled pages of your current and previous international passports.
National identity card. You'll need the original and copies of pages with personal information and registration data.
Completed and signed visa application form. You can find it on the visa center's website.
Photo 35*45 mm.
Receipts for payment of the consular fee (€80) and service charges.
Air ticket or ticket reservation to Italy.
Confirmation of sufficient funds or income.
Proof of accommodation: hotel reservation, apartment rental agreement, property purchase, etc.
Medical insurance.
Additional documents to confirm the purpose of the visa application: employment contract, marriage certificate, university acceptance letter, etc.
Upon arrival in the country, you must apply for the residence permit at the local police office ("questura"). You'll need the following documents for this:
Application for residence permit.
Original and copy of your international passport.
Four photos 35*45 mm.
Receipt for payment of the government fee.
Certificate of no criminal record.
Medical insurance for the duration of your stay in the country.
Documents confirming the need for a residence permit.
Proof of accommodation.
Revenue stamp (costs around €15).
There are several ways to move to Italy, depending on employment, the presence of relatives in the country, and other factors. Here are the main types of residence permits in Italy and the necessary conditions for obtaining them.
Residence Permit for Financially Independent Individuals
Another name for this type of permit is "elective residence" (residenza elettiva). To obtain a residence permit in Italy, one must have sufficient means to support themselves and their family. The income should come from passive sources outside of Italy, such as property rentals, pensions, dividends, etc.
The minimum required income is €31,000 per year, and an additional 20% of the amount is added for each family member.
Residence Permit for Investors
The residence permit for investors in Italy, also known as "Golden Visa" of Italy, involves significant investments in the country's economy, such as €2 million in government bonds or €250,000 in innovative startups. This type of residence permit is also granted upon the purchase of real estate.
The investments must be maintained in the country until obtaining permanent residence or moving out of it. One of the advantages is the absence of a minimum number of days of presence on the territory of Italy. You will obtain a residence permit for a European country and can travel throughout the European Union.
Residence Permit for Businesspersons
To open a business or become a sole proprietor in Italy, one can obtain a residence permit for self-employment ("Permesso di soggiorno per lavoro autonomo"). It is suitable for independent entrepreneurial activities, freelancers, and startup founders. The main criteria for obtaining this permit include having a source of funding, accommodation in Italy, and permission from the local police (questura).
Residence Permit for Relatives
The residence permit in Italy through marriage or family reunification allows entry into Italy for the purpose of joining a family member who is already living there.
Who is eligible for family reunification in Italy:
Spouse,
Minor children,
Adult children with serious medical conditions,
Parents with no other children in the country of origin or with serious health problems.
To reunify with the family, one needs to demonstrate that they have accommodation for all its members and financial capacity. Additionally, one must obtain permits for family reunification (nulla osta al ricongiungimento familiare).
Residence Permit for Employees of Italian Companies (lavoro subordinato)
To obtain a residence permit in Italy for work, one must have an employment contract with an Italian company. The process is quite laborious: first, the employer must conduct a search for an employee within the country and, if unable to find one, obtain permission to employ a foreigner.
A slightly simpler option to obtain a work residence permit in Italy is through seasonal work. The government of Italy publishes a document on the allocation of work quotas in January, which specifies the maximum number of foreigners who can come for seasonal work. This type of permit is issued for up to 9 months.
Residence Permit for Special Categories of Professionals
This type of residence permit, "lavoro casi particolari previsti," allows hiring foreigners outside of quotas. This category includes executives and highly skilled workers, employees in the medical field, university researchers and professors, as well as representatives of creative professions (artists, dancers, musicians). To obtain this permit, one must demonstrate their professionalism, such as through publications in industry-specific journals and work records.
Residence Permit for Students
This type of residence permit in Italy is available to students attending schools, colleges, universities, or even language courses if the duration of the program is more than 3 months. It is issued for 1 year with the possibility of regular renewal. Students with this status are allowed to work up to 20 hours per week. Upon completing their studies, they can find employment in Italy and obtain a work residence permit, making it one of the easiest ways to assimilate into the country.
Many migrants move abroad alone, leaving friends and relatives in their home country. To maintain contact with them and provide financial support, the money transfer service KoronaPay is available. It allows sending money from Europe to CIS countries without a commission if the sending and receiving currencies are different. The recipient can receive the money directly to their card or at one of the 50,000+ pickup points.
In our blog, we cover various topics related to life and work in European countries. You can explore all the topics by following this link.