Salaries in Spain: How Much Do Migrants Earn
Despite having the highest youth unemployment rate and comparatively lower average wages in the EU, Spain continues to be a popular destination for expatriates.
Among various reasons, immigrants are attracted to Spain because of its relatively high quality of life, good work-life balance, and a lower cost of living compared to Northern European countries.
Major Spanish cities like Madrid, Barcelona, and Valencia offer good living and working conditions. Here, individuals from various countries and professional backgrounds can find decent job opportunities.
In this article, we will talk about the salary an expatriate can expect while working in Spain and how high their living expenses might be here.
We previously wrote about how a migrant can find a job in Spain.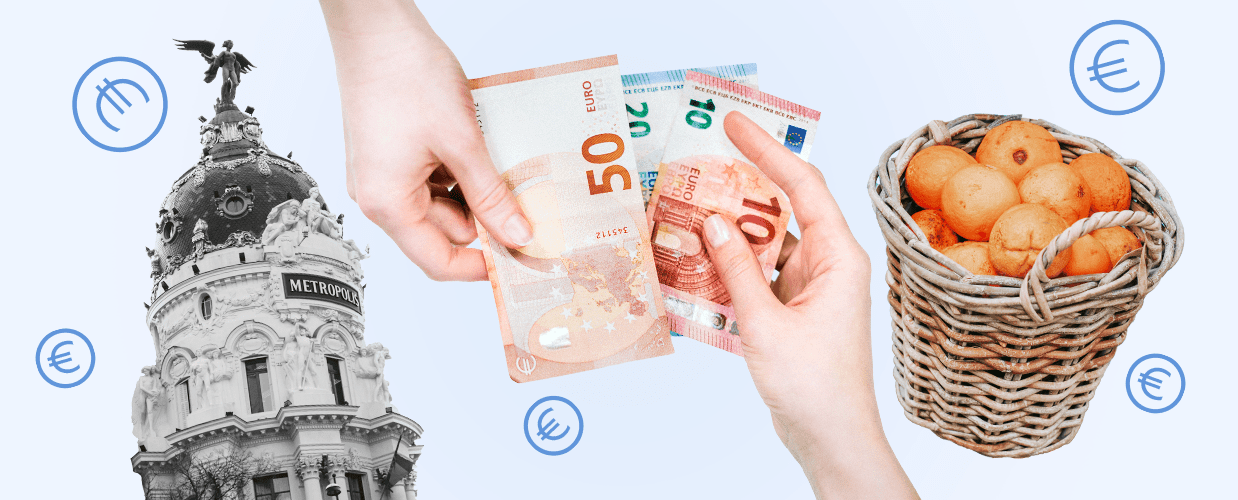 Average Salary in Spain in 2023
According to a report by one of the world's largest HR companies, Adecco Group, Spain ranks 4th in terms of the average salary and gross domestic product per capita (78.5%), being preceded only by Germany, Italy, and France.
In 2023, the average earnings in the country are 2,250 euros gross per month or 27,000 euros per year. However, 25% of the population earns less than 1,600 euros per month.
On the other hand, considering the average cost of living in Spain, a comfortable monthly net salary for a single person is around 2,700 euros or 4,000 euros for a person with a family.
Salary levels in Spain depend largely on the professional field, and living costs vary depending on the place of residence. For instance, in Barcelona, it's advisable to negotiate a higher salary compared to smaller towns; otherwise, maintaining a decent lifestyle might be challenging.
Minimum Wage in Spain 2023
The minimum interprofessional wage or SMII is the amount below which employers are not allowed to pay employees for a full working day, regardless of the type of contract.
The SMII is regulated by legal acts updated annually. In 2023, the minimum wage in Spain was set by Royal Decree 99/2023 dated February 14.
Calculations are made for full working days, and if the working week is 30 hours instead of the standard 40, reducing coefficients are applied.
For 2023, the minimum wage in Spain is set at 1,080 euros per month for 14 payments, which most local companies adhere to: 12 monthly payments and two extra ones in July and December.
Compared to 2022, this figure increased by 8%, bringing the average earnings of 60% of the country's population to this level. Trade unions lobbied for this change, demanding compliance with European Social Charter standards.
However, in practice, the increase in the minimum wage directly affects less than 14% of workers—only those earning less than 15,120 euros gross per year, as well as the unemployed. This is because they receive state benefits correlated with the minimum wage level.
Factors Influencing Salaries in Spain: Insights from HR Specialists
According to HR specialists, several key factors influence salary levels in Spain: the field of work, region, gender, age, and company size. Based on a report from Infojobs, here are the highest-paying sectors (figures are gross annual salaries):
Information technology and telecommunications: €31,898
Public administration: €29,834
Engineering and technical specialties: €29,392
Real estate and construction: €28,925
On the other end of the spectrum, the lowest-paying professions in Spain include speech therapists (€14,500), physiotherapists (€15,500), and jobs in the field of visual arts (€15,800).
Let's take a closer look at specific professions. According to data from the job search website talent.com, here are the annual salaries in euros for various professions in Spain:
Dentist: 56,350
Designer: 20,670
Programmer: 28,500
Model: 34,500
Translator: 23,400
Architect: 32,500
Accountant: 21,000
HR Manager: 4,150
Financial Analyst: 3,508
Non-Specialized Jobs: For jobs that don't require specialized qualifications, salaries are as follows (euro):
Customer Support Representative: 1,210
Registrar: 1,150
Waiter: 1,030
Caregiver: 1,600
Cleaner: 1,120
Salaries by region
The province with the highest salary is Basque Country, where the average annual salary is 31,064 euros. Madrid follows at €29,513, then Navarre at €28,459, and Catalonia at €28,145.
The lowest wages are in Extremadura (€21,393), the Canary Islands (€22,466), and Andalusia (€23,154). In 2020, according to the National Institute of Statistics (Instituto Nacional de Estadística — INE), the difference between the regions with the highest and lowest average gross salary in Spain was €9,679.
How much do men and women earn in Spain?
In Spain, there continues to be a significant disparity in wages between men and women, despite the efforts of the European community to eliminate discriminatory practices in salary distribution. According to data from the National Institute of Statistics (INE), every fourth woman (25%) has an annual salary equal to or less than the SMII, compared to a similar figure among the male population (10.7%). INE explains the gap by the high percentage of women employed part-time.
Average Gross Salary in Spain (INE, 2021)
| Gender | Year | Month | Hour |
| --- | --- | --- | --- |
| Women | 23,175.95 | 1,655.43 | 15.61 |
| Men | 28,388.69 | 2,027.76 | 17.30 |
Salaries in Spain for Migrant Workers
According to the Active Population Survey (EPA) for the first quarter of 2023, employees of foreign origin constituted 14.4% of the country's workforce. Immigrants account for 25% in the hospitality sector and 18% in construction.
According to Eurostat and INE, 6 out of 10 employed foreigners have higher qualifications than required for their jobs, yet their average salary (annually) is nearly €7,000 less than that of EU citizens.
The situation for migrants often boils down to accepting their circumstances or remaining unemployed back home. One migrant lamented, "I have a master's degree in design, yet I am assigned administrative tasks that are too simple for the skills I acquired in university and during my previous work experience," as reported by Spanish press.
However, the situation isn't easier for locals either: 34.5% of them have qualifications higher than necessary for their jobs. This is the highest percentage in the European Union.
Purchasing Power of Spanish Salaries
Purchasing power indicates how many goods and services a consumer can buy with a certain amount of money. Consulting firm KPMG states in their study "Trends in Compensation and Salary Increases in 2023" that Spaniards will continue to lose purchasing power due to inflationary pressures experienced by the economy.
While companies are increasing salaries for employees, only 12% of them are compensating for the rising prices.
Over the past decades, the cost of goods and services in Spain has increased significantly faster than the wage level. This trend will persist despite the increase in the Minimum Interprofessional Wage (SMII) and the rise in company salaries.
According to Vivirenn.com, living in Spain costs between €820-1,100 per month.
| Category | Expenses (€) |
| --- | --- |
| Rent | 200 — 880 |
| Food | 40-50 per week |
| Transport | 7 for 10 trips |
| Gasoline | 1.28 per liter |
Payroll Taxes in Spain
Gross salary is the income before tax deductions. To get the net amount, income tax and social security payments are subtracted. The exact figure depends on the region in Spain where you reside, but generally, deductions amount to around 26% of the gross salary.
Personal Income Tax
Companies calculate income tax considering:
The employee's living conditions (marital status, dependents, etc.).
The income tax rate for the current financial year set by the Tax Agency.
Social Taxes
There are two mandatory social contributions in Spain: one paid by the employer and the other by the employee. The higher these contributions, the higher the pension and benefits. Additionally, employees contribute the following from their salaries:
1.55% for unemployment insurance.
0.10% for professional training.
4.7% for unforeseen general circumstances.
Official employment in Spanish companies guarantees immigrants the same level of social protection as local residents receive.
Money Transfers from Spain
Foreigners make up 10% of the country's population, and many of them are active participants in the local job market. While earning in Spain, they often send money transfers to their families back home.
With the KoronaPay mobile application, you can send money from Spain to over 20 countries with no commission and minimal exchange rate markup.
KoronaPay is available for download from App Store and Google Play. Using the app is incredibly easy: it has a user-friendly interface and transparent logic. The app offers 24/7 support via chat in both Russian and English.
Over 18 million people trust KoronaPay. The app has ratings of 4.5-4.7 out of 5 in various app stores and on review websites. Download the app now and discover the terms for money transfers to your destinations. You don't need to provide personal information to get the calculation of the transfer amount; this information will be requested later, after you decide to send the money.
In our blog, we write about life, work, and education in the EU. Read our articles here.